This is our first year supporting BMW's prestigious golf tournament in Germany, but it is the culmination of a partnership that began years ago and together, we aim to shape the future of sports.
Through the use of data, analytics and cutting-edge digital technology, NTT DATA will help BMW to provide its most immersive data experience yet, putting golf fans at the heart of all the action, and presenting analysis of all the data from Munich to engage and delight spectators. Inspired by our previous work delivering the NTT DATA Wall at The Open, we will analyse billions of data points from all over the course to generate a constant stream of real-time intelligent insights for fans, including player performance comparisons and hole-by-hole analysis.
Distributed via the BMW Golf Sport digital platforms, fans from around the world will be able to keep up with all the action, for free, receiving real-time updates during event and enabling them to enjoy the ultimate second screen experience while they watch the live broadcast. The NTT DATA experience is the evolution of live sports news, delivering not just real-time results but also an AI-designed stream of content and analysis for a personalised viewing experience.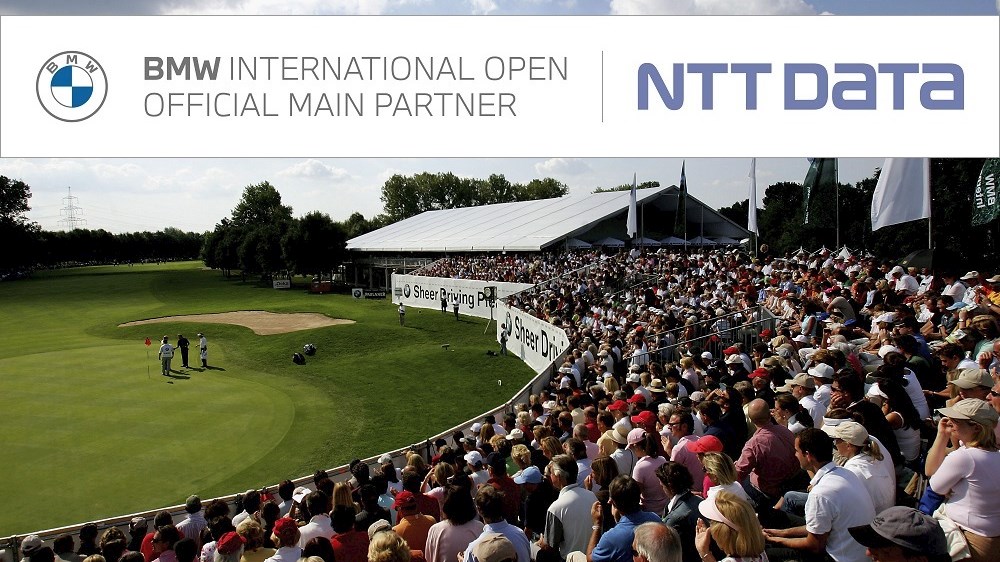 A history of NTT DATA and BMW
NTT DATA's relationship with BMW began over 30 years ago. Over the years, NTT DATA has assisted the automotive giant with end-to-end digital transformation, streamlining processes, and supporting innovation.
Our partnership with BMW is built on a collaboration that has a global footprint. From content management systems in China through to transforming global data centres in America, the partnership has been a hotbed of innovation for many years and represents a truly global relationship.
NTT DATA has a rich history of collaboration with BMW, both here in Germany and globally, and both businesses have a real passion for sports and technology. As a result, I'm delighted to expand our relationship as a Main Partner, and the official technology and innovation partner, for the BMW International Open.

After a year where fan engagement with sport has had to adapt in unprecedented ways, technology will play a vital role in reenergising the fan experience. Fans and supporters are at the heart of every sport, and so the experience for supporters must also be a priority for sporting organisations moving forwards. Data can help to tell stories to fans in a whole new way, and by leveraging the latest innovations in AI and data analytics, we are working with BMW to create the ultimate data experience that will live long in the minds of golf fans.
About the BMW International Open
Part of the PGA European Tour, The BMW International Open is Germany's most iconic golfing tournament. It was first held in 1989 in Munich, BMW's home city.
The roll of honour at the BMW International Open includes many big names. Record winners, with two wins apiece, are American Paul Azinger (1990, 1992), Denmark's Thomas Bjørn (2000, 2002), Pablo Larrazábal from Spain (2011, 2015), and Sweden's Henrik Stenson (2006, 2016). The youngest – and, to date, the only German – winner is Martin Kaymer, who claimed an emotional victory in 2008, aged just 23 years and 177 days. Other winners include Sandy Lyle, Robert Karlsson, Colin Montgomerie, Lee Westwood, Miguel Ángel Jiménez, Ernie Els and John Daly, who won in 2001 with the lowest score in the history of the tournament (261 shots, -27).