How to tame cloud complexity
Cloud transformation promises much, including shorter time-to-market, reduced costs and accelerated innovation. Yet, there is no off-the-shelf solution for cloud transformation. The most effective approach for most organisations today is to adopt a hybrid multi-cloud architecture and build systems in a cloud native way.
The cloud journey can be complex though, and any project must support your business strategy and ambitions. To help you achieve your goals, we offer a wide range of cloud application and infrastructure consulting, system integration, architecture design and deployment services.
Three milestones to cloud native modernisation
Cloud Readiness
Getting ready for the cloud begins with the desired outcomes. We analyse your technology situation and business strategy. This enables us to provide details of the skills needed for cloud migration, security requirements, suitable cloud structure, cost of transformation, timelines and the cost to run the future cloud deployment.
Journey to the Cloud
We create a clear roadmap for migrating applications to the cloud. This involves determining a Return on Investment for each application, and identifying the required skills, tools, architecture and networks. Our proven methodology implements automation to accelerate cloud deployment while maintaining flexibility to meet changing priorities.
Cloud Management
To support day-to-day operations, we apply monitoring, automation and advanced management methodologies to secure, maintain and optimise cloud environments. Our proactive approach minimises costs while meeting your performance needs. Full transparency is provided through comprehensive dashboards and clear reporting.
Service Lines
Cloud Mindset Adoption
The cloud is different from on-premises IT, requiring not just new platforms, technologies and skills but also a new mindset. By embracing the cloud, enterprises free themselves not just from legacy technologies but also outdated thinking, enabling them to create innovative products, services and business models.
Hybrid & Multi-Cloud Platforms
NTT DATA is vendor-agnostic and so can offer impartial advice on the optimum approach to designing a corporate cloud platform, advising you on the most appropriate platform strategy for a given mix of workloads, and the relative merits of heterogeneous, homogenous and hybrid cloud.
Multi-cloud Data Management
A multi-cloud environment enables specific payloads to be optimized for different cloud providers but it creates additional data management challenges that NTT DATA can help you understand and resolve, utilizing our own remote cloud management capabilities, if required.
Journey to the Cloud
We help you define the best cloud transformation strategy by analyzing different scenarios and making decisions for your cloud journey based on understanding your business strategy and motivations.
Cloud-Native Solutions
Enterprises are increasingly opting for cloud-native solutions, leveraging technologies such as microservices and containers to ensure portability and performance. NTT DATA helps you embrace cloud-native solutions and achieve the optimum mix of customizability and automation.
Cloud Security
The cloud brings new types of vulnerability and considerably extends the attack surfaces, while big data and compliance and regulatory requirements add to the security challenges. NTT DATA can ensure you take a holistic approach to cloud security that addresses these challenges.
Enhancing Digital Capabilities
A Digital Capability ​is a set of routines, practices and technological enablers a company needs to support business capabilities through digital technologies. Our teams work with clients to enhance their digital capabilities and increase their business success.
The Cloud Economics
Cloud Economics has been developed as an enterprise-ready service designed to minimize costs and maximize the benefits of the cloud. It is a customer-first and vendor-agnostic advisory approach that enables clients to select the most cost-effective approach and the most appropriate for their needs.
Cloud
Escape legacy, embrace the cloud
Successful transformation is guided by business strategy
Download brochure
Selected Solutions
Meikai
Meikai has been developed by NTT DATA to keep you in control of your cloud-based resources, assets and suppliers, providing transparency, control and automation in a distributed, hyperscale cloud landscape.
Cloud Radar
Adopting cloud is a long-term commitment effort that demands continuous analysis and understanding. Cloud Radar is a vendor-agnostic solution oriented to address the adoption process and measure the strategic value of cloud.
Green Cloud
There is often an assumption that moving to the cloud is more environmentally friendly, but this cannot be taken for granted. Choosing the right cloud provider, optimizing the operating model and effectively leveraging the application architecture are keys to maximizing economic and environmental sustainability.
Cloud Toolkit
The Cloud Toolkit includes a set of best-practice templates, step-by-step workplans, and maturity assessments for any cloud adoption project. The Cloud Toolkit assists our team of expert consultants to define the best cloud solution for every case.
Cloud Evaluation
With the Cloud Evaluation solution, our team guides our client to define a strategical roadmap to accomplish a successful cloud adoption. It helps determine if a company Is ready a migration to the cloud and the best migration process for it.
Cloud Center FOR Enablement
CC4E comprises a multidisciplinary team that uses a set of tools and assets to facilitate the cloud transformation while ensuring the necessary cultural shift within our clients.
NTT DATA Named a Leader in SAP Cloud Migration Report by NelsonHall
Company Ranks Highly for S/4HANA Transformation and Legacy ERP Migrations.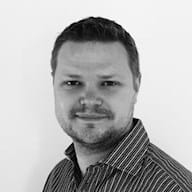 Luke Freeman
Cloud Solutions Lead
With over 20 years of delivering IT, Infrastructure and Cloud solutions, Luke helps clients design, deliver, optimise and operate Enterprise solutions
Contact Luke