In today's rapidly evolving business landscape, digital transformation is crucial for organisations to stay competitive and relevant. But implementing new technology isn't enough - it's equally important to bring innovation to every aspect of the transformation process, driven by data insights. By leveraging data and analytics, organisations in all sectors can streamline operations, create a competitive advantage, and improve customer - and fan - experiences.
When it comes to improving experiences, we place this at the heart of everything we do – whether that's for employees, customers, partners, or fans. One example of where we've created an unparalleled experience is through our work with The R&A, the world governing body of golf, and the organisers of golf's original Championship, The Open.
For over a decade, NTT DATA has partnered with The R&A: as the official IT Provider for The Open and, more recently, the AIG Women's Open. Drawing on our expertise across a variety of business sectors, we've brought cutting-edge technology to enhance the golf experience for fans. We always strive to deliver better insights and analysis each year. This has been seen in the evolution of the iconic NTT DATA Wall originally created in 2014 - which has advanced every year to the 2023 edition to feature step changes in capability and design. Last year, we also transformed the experience with the launch of ShotView, a platform powered by digital-twin technology that processes every element of play in real-time and analyses this to bring key insights to fans when and where they want it.
Next week, we will once again be swinging into the world of golf to bring the most immersive and engaging Data Experience to date to one of the most prestigious sporting events. Here's how we are translating the latest technology innovations to the world of golf:
Digital twin technology application
Digital twin technologies have advanced greatly in recent years, with the application of such technology having the power to revolutionise society by creating virtual replicas of real-world objects and environments. With this technology, the opportunities for improvement are endless; Surgeons can use it to make better decisions about surgical procedures, while smart cities can take advantage of the data exchange between the virtual and physical worlds to ensure the safe operation of autonomous vehicles without human intervention. The possibilities are limitless, and the benefits to society are enormous.
We have implemented this technology in many smart city projects, helping cities model climate scenarios, manage traffic flow, improve safety, security, sustainability, and more. With our digital twin expertise, we wanted to introduce something revolutionary for golf fans at The 150th Open last year, so we created ShotView. Using diverse data sources like open-source landscape data, drone-captured images, LIDAR mapping, and point graphs, we built a digital twin of the iconic St Andrews Old Course, known as 'The Home of Golf', where The Open was held in 2022.
Through this technology, we gave fans both on the course and at home an incredible level of insight into the millions of data points collected in real-time. Following its successful launch, ShotView was awarded 'Best Technology for Data and Analytics' for the exciting vision and potential applications across all sports at The 2023 Sports Technology Awards in New York.
Building on this success, we are taking ShotView to the next level, by introducing a better-integrated and more mobile-optimised version of the technology and allowing fans to dive even deeper into data insights to analyse the game like never before. ShotView provides live statistics for each hole, head-to-head statistics for player groups, shot-by-shot analysis in context, and field analysis using Strokes Gained statistical methods. Applying digital twin technology in this setting means golf fans can understand how different players apply unique strategies as the Championship unfolds.
A unique Data Experience
Data insights and analysis are crucial for the success of modern organisations. In today's data-driven world, companies that can effectively understand, improve, connect, and exploit their data are better equipped to drive value and transform how they work. By leveraging data insights, organisations can make better decisions: faster, optimise processes, cut costs, and create personalised and relevant customer experiences.
At The Open, we bring the analysis of every shot, player and hole gathered through the ShotView technology to fans. Via theopen.com, fans can access deep insights to help them enjoy the game they love, while those on-site are also able to enjoy the NTT DATA Wall, a massive LED event installation over 20 meters wide. The NTT DATA Wall gives a front-row seat to the action with real-time broadcasts from all around the venue. Plus, it presents captivating statistics and engaging data visualisations, so you won't miss a beat - or a birdie.
This year, we are taking things a step further by partnering with other sponsors of The Open to bring sustainability insights to the fans through the NTT DATA Wall. As part of a collaboration with The R&A and Cardiff University, we have activated a multi-year research project entitled 'Sports Events as Agents of Change.' As part of this research, we will work together to assess the impact of sport events as agents for sustainable behaviour change by using responsible innovative digital and visual communications to encourage fans to make sustainable travel choices during and following the Championship.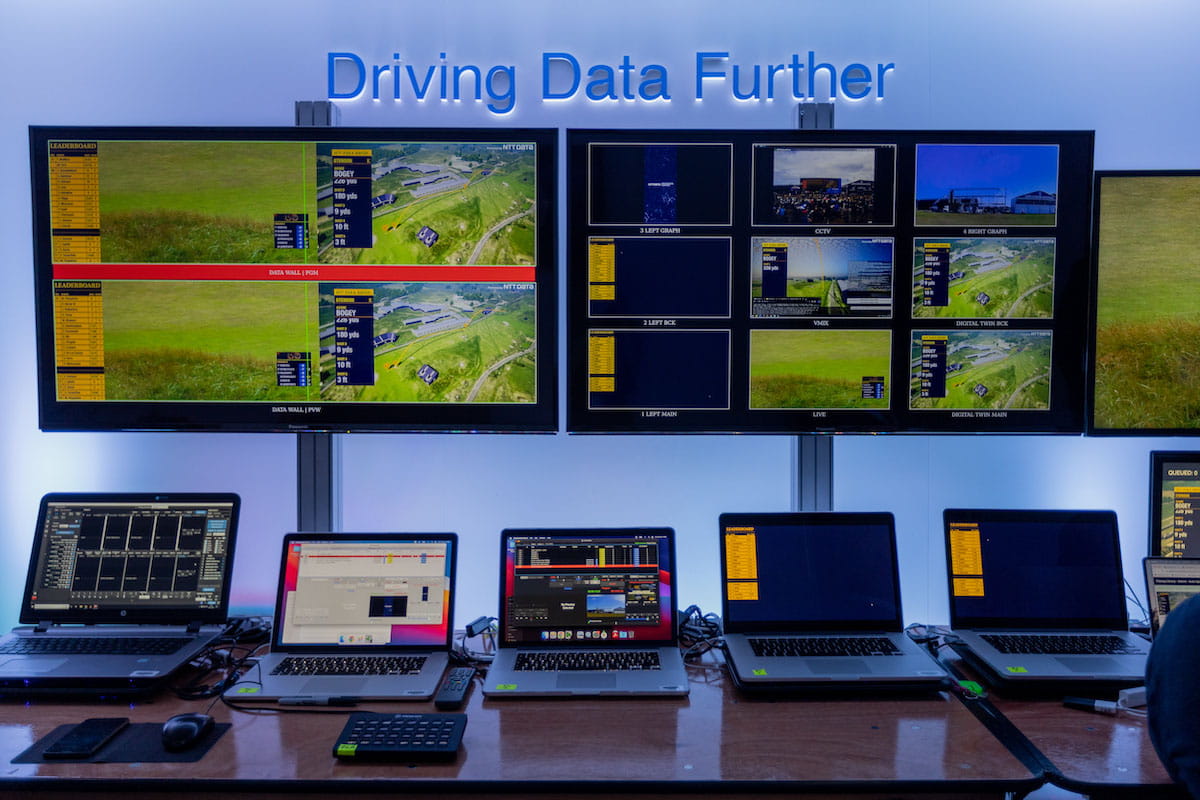 For this year, this means that fans onsite will receive live updates on water usage, the number of plastic bottles saved, the amount of public transport utilised, and even the locally sourced food consumed. It's a great way for fans on-site to understand the carbon footprint of their attendance and make more informed decisions. This is a step in the three-way collaboration between NTT DATA, The R&A and Cardiff University on a multi-year research project entitled "Sports Events as Agents of Change".
The NTT DATA Experience is available to all fans, no matter where they are. So, whether you're at the tournament or watching from the comfort of your own home, you'll have access to a wealth of engaging and tailored content - it's sports news reimagined in the same way we reimagine data insights for organisations to drive value.
Showcasing the NTT DATA it.human: a digital human
At this year's Championship, NTT DATA will showcase its latest AI-powered digital human technology: the it.human platform. The platform leverages a life-like digital avatar to replicate human movement and sound, using gestures, body language, facial expressions, and tone of voice to add a human element to the traditional self-service interface. Combined with multimedia, including audio, video and images, the digital human creates an interactive and engaging offering which combines the best of digital and human interactions and represents the future of customer service across industries.
For The Open, we named our digital human Lottie after Charlotte' Lottie' Dod, the incredible English multi-sport athlete who was born in Liverpool, where this year's Championship takes place. Lottie made her mark in the late 1800's in a number of sports including golf, in which she won the British Ladies Amateur Golf Championship. She also competed professionally in archery, field hockey, and most notably, tennis, in which she won the Wimbledon Ladies' Singles Championship five times. As one the most versatile female athletes of all time, Lottie is an inspiration, and we wanted to pay homage to her incredible successes through our AI-powered Lottie, who is here to educate and entertain all the visitors at The Open.
Using generative AI technology, Lottie will ingest and analyse the live data flows from across the course in real-time, as well as have an encyclopaedic knowledge of the rules and history of golf.
She'll provide valuable insights on the tournament itself, share background information on players and the sport, and even help guide you around the course. Lottie is the ultimate knowledge companion.
While Lottie will be available in the NTT DATA hospitality suite during the Championship, she represents the future of customer and fan experiences. We have big plans for her, and in the future, Lottie could be all around the course, helping and guiding fans wherever they are on-site.
This ground-breaking technology is not just for the sports world. It's already making waves in various industries. You can find it in receptions, welcoming guests with open arms, and it's being utilised in sectors like retail, tourism, healthcare, and financial services.
Driving data further
At NTT DATA, we are passionate about driving value and digital transformation through the latest advancements in technology. We are proud to bring our innovation expertise to The Open and look forward to seeing the NTT DATA Experience come to life during the Championship.
Learn more about how we are changing the future of sports through technology and innovation here.