London, 10 January 2023 – NTT DATA UK&I, a trusted global innovator in business consulting and IT services, has today announced that it has appointed Clare Stephens as its new VP of Diversity, Equity & Inclusion. Driving forward all of NTT DATA's campaigns and initiatives in this area, Clare will build on the momentum of the existing programmes, as well as create new and innovative projects, aiming to lead by example and make the IT and technology services industry more equitable for all.
Diversity, equity, and inclusion is a top priority for NTT DATA, as evidenced through its 'Do Diversity campaign', which was originally created to bring awareness to key diversity issues and create a workplace environment where all employees feel valued and respected.
Since its inception, NTT DATA has built on its momentum and has subsequently been recognised as a "Diversity Leader" by the Financial Times for the past two consecutive years. Building upon this, Clare joins the NTT DATA leadership team, feeding into all activity to ensure DE&I is a central focus in all organisational decisions.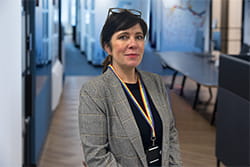 Prior to joining NTT DATA, Clare held a variety of HR leadership roles at IT and technology services provider, IBM. Most recently, she was the EMEA Diversity & Inclusion Leader, a role she held since 2017. During this time, Clare led on a wide variety of inclusion initiatives to attract, retain, and develop diverse talent. These included increasing the number of women in leadership, flexible working initiatives and mentoring programmes. Clare built a reputation for being a bold and passionate D&I Leader and is committed to respect for all, hard work and pride in results.
Clare Stephens, Head of DE&I at NTT DATA UK&I, commented on what attracted her to make the move: "I was blown away by the talent at NTT DATA, the passion of the communities and the leadership team's authentic dedication to making NTT DATA a truly inclusive place to work. The commitment from Fernando and his team to make DE&I central to business success tells me everything about how committed the organisation is to its people and its future growth. I'm delighted to have been given the fantastic opportunity to drive forward NTT DATA's mission to make the organisation - and the industry as a whole - a more equitable and inclusive place for everyone. Over the last two years, I've tracked the progress of the Do Diversity campaign and I'm excited to continue and expand the great work."
Fernando Apezteguia, CEO of NTT DATA UK&I, commented: "Creating a diverse and inclusive workplace is something that is very close to my heart and it's something that is key to a successful business. Clare brings with her the exact kind of energy and dedication we were looking for in this role. We're all very pleased to welcome her on board and look forward to building new campaigns and initiatives together, as well as evolving everything we do. 2023 promises to be a busy year for NTT DATA, and we will continue to solidify our status as an employer who cares deeply about the people we employ and those who make up the industry as a whole."