London, 19 June 2023 – NTT DATA today announced that it will bring computer vision techniques and artificial intelligence models to the BMW International Open 2023, creating the most immersive fan experience to date at the largest and most important golf tournament in Germany. As the Technology and Innovation Partner for the BMW International Open, NTT DATA will bring its advanced data experience, which makes over one billion calculations throughout the tournament to deliver real-time insights to both fans onsite and all over the world. Alongside this, it will be showcasing its machine vision and AI capabilities via a Golf Swing Analysis technology.
At the BMW International Open, NTT DATA has brought advanced data insights, analytics, and cutting-edge sports technology for the past three years, building a more engaging and immersive way for fans to follow events. This has included its data experience, which can be interacted with via the BMW Golfsport digital platform, creating a unique digital fan experience.
The experience generates real-time insights, including player performance comparisons and an interactive leaderboard, enabling fans to view the day's big hitters off the tee, who is making the most fairways, and which players are taking the fewest putts per hole. NTT DATA's intelligent prioritisation algorithm will track the most important developments during the tournament, ensuring fans are at the heart of the action all the time. This is achieved through making over one billion calculations, using over 50,000 lines of computer code to analyse over 30,000 player shots during the tournament. This platform represents the future of sports news, providing tailored results and AI-driven analysis.
Fans onsite at the event will have the opportunity to experience these insights and analysis via the NTT DATA Wall, 20-metre-wide LED event installation in the spectator's village. The Wall delivers live video from all around the venue alongside compelling statistics and impactful visual trends to showcase scores, rankings, plays at each hole, details on each player, and related topics such as posts on social media. Positioned at the heart of the fan village, The Wall also enables those onsite to rest, relax, eat, and drink, while keeping up with all the latest action on the course.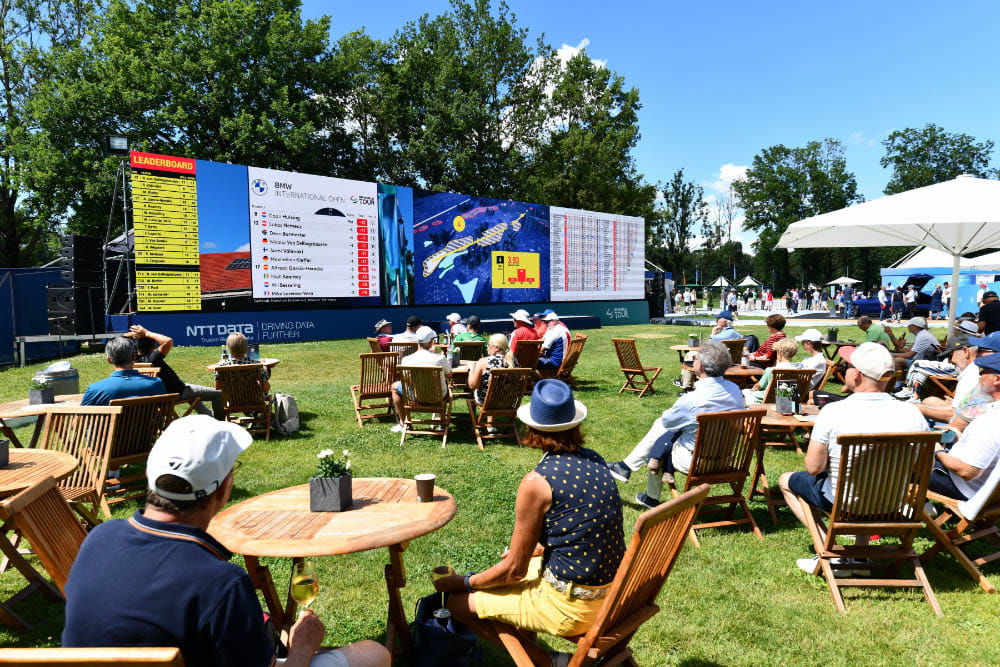 At this year's event, NTT DATA will also be showcasing its proprietary advanced machine vision technology, which is already being used to accelerate digital transformation in a number of industries, such as in retail. This powerful technology is helping retailers create a more seamless checkout experience, while fighting fraud, by using the technology to auto-identifying items being scanned at a self-checkout machine.
At the BMW International Open, this technology will be used alongside AI-based video analysis to deliver to allow real-time tracking of a golf swing; providing valuable information on body pose, golf club pose, and trajectory. Available to all fans onsite in the fan village, individuals will have the opportunity to use the technology to perfect their swing. PGA Golf professional and former caddie, Katharina Böhm will also be onsite to help fans understand the insights and identify areas for improvement. Having previously played on the German National Junior team, Katharina's advice alongside the data analysis will go a long way to help fans improve their overall golf performance.
Stefan Hansen, CEO at NTT DATA Germany, commented: "Technology has become an integral part of sport. It builds a more engaging and immersive fan experience, while also improving player performance and creating more opportunities for sports organisations. At the BMW International Open, we have consistently delivered innovative technologies to improve the fan experience. This year, we are proud to once again be building on the technologies showcased at the event, which are also being used to successfully transform processes and experiences in a variety of other sectors, industries and clients. We are excited to work together with the BMW Group to bring technology and data to life and also showcase some of the innovations we've implemented in BMW factories and offices at this prestigious tournament."
Joern Plinke, Head of BMW Golfsport Marketing at BMW Group, added: "NTT DATA has been a valued partner at the BMW International Open for the past three years. Their team have brought innovative technologies to engage with fans in new ways. We are thrilled to see the addition of the Golf Swing Analysis, creating an exciting experience for visitors on site at the BMW International Open this year."