Like many businesses, the McLaren Group had to adapt their working practices when the COVID-19 lockdowns were introduced. Suddenly, remote and hybrid working became the norm for many, and McLaren turned to NTT DATA to provide technology-led solutions for their staff and customers.

We had already formed a partnership with McLaren pre-pandemic, and our wealth of experience and expertise in the automotive sector made us the perfect partner to ensure the flexibility of McLaren's IT provision across their business.
Modernising legacy systems
By providing McLaren with common data models, data and information could be shared more easily across multiple internal departments. This led to an increase in efficiency and provided staff a means to focus their time and effort on more value-add activities.
Future plans between NTT DATA and McLaren include modernising McLaren's SAP software to further improve efficiency, simplify processes and allow for business growth.
NTT were really supportive of helping us adopt a new sort of self-service and predominantly remote working service model.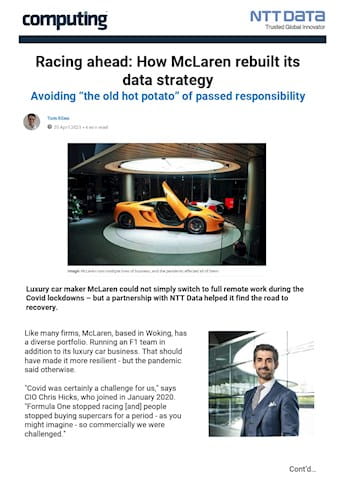 Case Study
Helping McLaren Group implement new data model
Streamlining processes and increasing efficiency across the business.
Download Case Study