As one of the UK's foremost mobile network providers, Three is the market leader for network spectrum and download speeds. The telecoms and internet service provider has invested heavily in 5G during its transformation programme. Currently, Three is also the only operator able to meet the International Telecoms Union (ITU) 2020 standard
for full 5G services.
Much of the basic systems had remained the same as those first 3G networks Three had when it began operations in 2003. As time went on, business areas such as billing, mediation, and fraud, to credit and collection resulted in the company using over 100 different systems, making it increasingly difficult to serve customers quickly and efficiently.
Simon Gratton, Three's Chief Data Officer, said: "As people in the industry will know, setting up a DevOps cycle where you can deploy daily is a huge undertaking for a company, where we have been more waterfall in nature. The strong competency of having NTT DATA engineers in our team educating our internal team and delivering that capability, is a core reason why we have them with us."
"In data terms, we needed to be able to have all the information we have at our disposal in a single location, so that we were always ready for that next business question when it comes in, that next business outcome to be delivered. Then test concepts quickly, change them, scale them and use technology as a component part rather than an afterthought."
Initially, NTT DATA was brought in to drive cloud optimisation and simplify the ecosystem that had mutated to that point. Because Three had experienced dramatic growth in cloud services expenditure and the consumption of cloud services, whether that be on an IAS basis or a PAS basis, there was an opportunity to drive down costs while overseeing what it was consuming, what it was planning, and on an ongoing basis, the increased benefit the company could achieve from using the cloud. This is across and encompassing compute, storage and applications, as well as ensuring optimised design patterns, governance and processing moving forward in order to maintain efficient use of cloud-based services.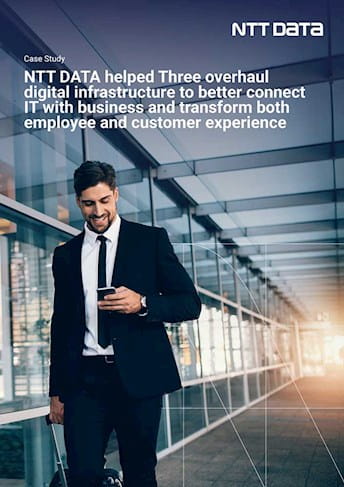 Case Study
Helping Three overhaul digital infrastructure
Ensuring better interconnectivity between internal departments
Download Case Study