Every interaction with your client is an opportunity for growth, establishing a long-lasting, trusting relationship. However, client engagement practices have transformed significantly over the past few decades, aligning with technological innovations and client expectations. Those organisations that have learned to adapt to their client's evolving needs have come out on top: thriving and growing consistently over time.
Gone are the days when client engagement was merely transactional; today, it is about forging strategic relationships that bring enduring value to both parties. Knowing what it takes to build and sustain successful client engagement and having a unique approach is critical to success.
Best Practices for Client Engagement
Successful client engagement is not a one-size-fits-all formula. Each corporation or consultancy should adopt a different strategy based on its industry, objectives, and client base. However, there are overarching best practices that can guide organisations and individuals on their journey towards client satisfaction and long-term partnerships.
We understand the importance of building a solid foundation for sustainable client engagement. Over the past five years, we have employed a unique and structured approach to client engagements that has enhanced our clients' experiences and fuelled our growth.
Best Practices for Client Engagement
The Four-Quadrant Model is central to the way we at NTT DATA UK&I approach client engagement. This model is business line/vertical agnostic, making it applicable and beneficial to all sectors. Let's delve into the four quadrants of this model: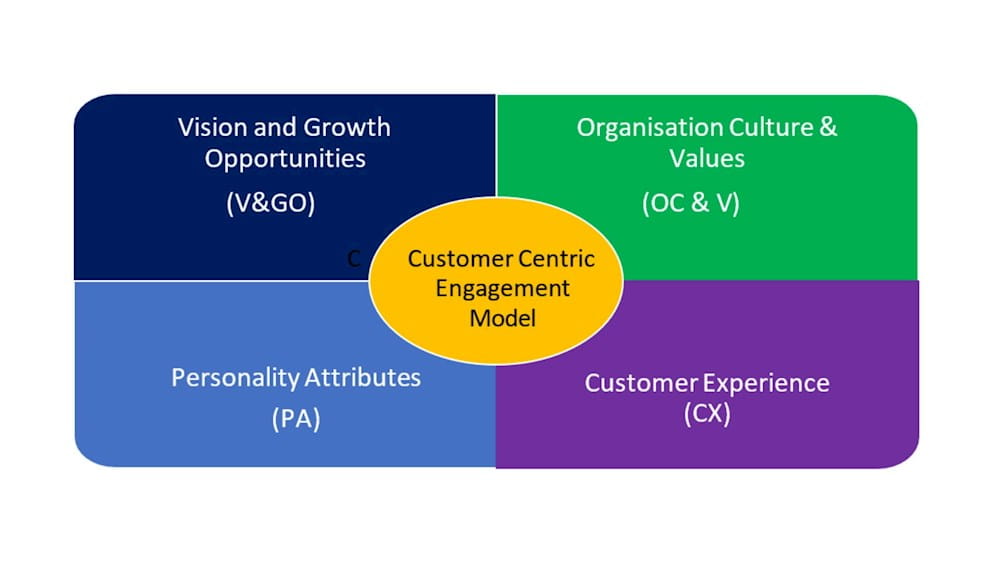 Vision and Growth Opportunities
Understanding the client's vision and growth opportunities is pivotal in building solid client engagement. It involves aligning our strategies with the client's long-term goals, ensuring that our partnership contributes to their success.
Organisational Culture and Values
Every organisation has its unique culture and values. To succeed in client engagement, we need to integrate seamlessly into the client's culture, becoming an extension of their team. This alignment fosters trust and collaboration, which is essential for a fruitful partnership.
Personality Attributes
NTT DATA's Four-Quadrant Model emphasises the significance of personality attributes. This includes traits like adaptability, empathy, and effective communication. These attributes are fundamental in building strong client relationships that stand the test of time.
Customer Experience
At its core, client engagement is about delivering a remarkable customer experience. Our Four-Quadrant Model places strong emphasis on consistent overachievement: exceeding client expectations and ensuring they receive value at every interaction.
Putting the Customer First
For us, putting the customer first is more than just a mantra; it's a way of doing business. In every engagement, our team formulates a customer-centric approach. We leverage a team with vast industry and product stream experience, including Technology and Delivery areas. This diverse expertise ensures that we understand the nuances of our client's business, allowing us to tailor our services accordingly.
Building lasting client engagement isn't about quick wins; it's about winning hearts and minds over time. Our approach involves a small team of Sales, Architecture, and Delivery experts who immerse themselves in the client's culture, vision, and long-term growth opportunities. By truly understanding our clients, we can offer solutions that align with their objectives and bring sustainable value.
This initial engagement sets a strong foundation for our client relationships. We showcase our key capabilities and offerings, supported by our impressive track record of success. Relevant case studies serve as tangible evidence of our ability to deliver results.
Successful client engagement is multi-faceted; it requires organisations and individuals to possess the right attributes and personality traits and to be in total alignment. NTT DATA UK&I's customer-centric, four-quadrant model provides a structured approach applicable across industries. We have built lasting relationships and achieved remarkable growth by putting the customer first, understanding their vision, and aligning with their culture and values. In a world where physical client interaction is no.
If you've experienced any difficulty in building a positive and collaborative workplace environment, take a moment to get in touch and arrange a 45-minute consultation. We can help you make significant changes from day one.