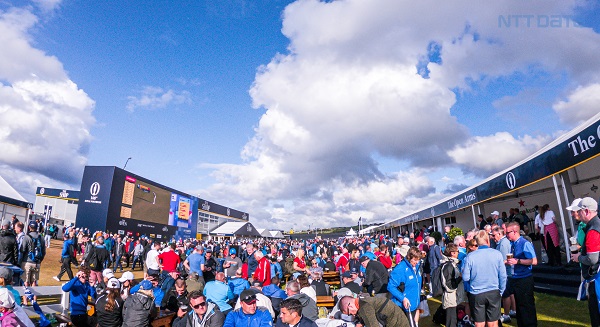 Data is pervasive in today's professional sports world. It's difficult to remember a time when football on TV didn't have information on pass completion percentages and shot counts, when tennis didn't have Hawk-Eye, and when cricket didn't have its Hot Spot infrared imaging system. In much the same way as retail, healthcare, or financial services, the industry has embraced digital transformation, and with it, an appreciation of the power of data.
The use of data and analytics in the sports world is now so expansive that it surfaces in four distinct areas, with NTT DATA playing a part in each:
1. Enhancing the live experience
There's a fierce competition amongst stadiums to be the most technically advanced, and with every new stadium built, fan expectations only increase further. To keep up with the competition, older venues are using data and data visualisation to offer new digital experiences that cater to fans' needs. This approach has been particularly apt for sports like golf, where naturally, the course itself only changes to a limited extent over time. Our work at The Open is a great example of how this can work in practice.
At last year's tournament, we built a huge on-site screen for fans called The NTT DATA Wall. Here, data feeds were combined with artificial intelligence to provide spectators with visual coverage and game analysis of unprecedented quality. With up to 70 players on the course, it is highly complex to track in real time which player is stuck in the rough, who is sinking their putts or who is racking up the birdies - and to decide which image is broadcast live to the spectators. NTT DATA Wall technologies analysed over 2.7 billion data points daily including players' facial expressions and body posture as well as real-time fan reactions. This enabled us to filter the decisive highlights from the flood of all available live camera images and present them to the spectators alongside the TV broadcast.
2. Enhancing the broadcast and off-pitch experience
Data and broadcast sport go hand-in-hand, and nowadays, fans expect access to additional information when watching remotely – whether through commentary, overlays, or apps. With fans more discerning in their viewing, sports' organisations are constantly looking to improve. Particularly in light of the current coronavirus situation where stadiums have been emptied because of health and safety concerns and regulations, off the pitch, the pressure is on for sports businesses to perfect their data-driven game.
One example of exceptional use of data off the field is NTT DATA's upcoming broadcast of The Open for The Ages. To produce the program, The R&A, the organisers of The Open Championship, will be making use of NTT DATA's data modelling. Through our analysis, we'll be looking to establish who might have won The Open this year, had the top golfers from the last 50 years played against each other.
To conduct our analysis, we'll be drawing on a range of historic data from The R&A and The PGA. The earlier datasets from the 1970s mostly consist of simple paper scorecards, but more recent datasets include new metrics, such as strokes gained – a superior system for gauging performance because it contrasts a player's performance to others and can isolate specific aspects of the game. Importantly, so The R&A is able to trust our analysis, all the datasets we'll be referencing are highly accurate and reliable.
Another example of innovative use of data, this time before the pandemic, is NTT DATA's work with INDYCAR. In 2019, it turned to us for our customer experience, app development and project management expertise to deliver its INDYCAR Mobile App. During races the app provides not only a live leader board with personalisation features and real-time telemetry, but also enhanced in-car video and audio, championship standings as they run, and more. The app saw 40,000+ users on race weekends; 36% higher than the previous year.
3. Fanalytics
Optimising fan engagement depends on building up deep knowledge of each customer. To communicate and market to customers and potential customers effectively, it's no longer sufficient for businesses to rely on assumptions. They need to understand exactly what their customer base wants. To achieve this, they need data.
This is a principle that's true of most industries today, and certainly, the sports industry is no exception. Insights into fan preferences can facilitate more precise targeting, which in turn, can drive repeat ticket purchases with targeted promotions or personalised discounts. For sponsors of sports events, too, customer data is a potential goldmine. Sponsors, of course, are paying a rights-holder for a distinct fanbase that's aligned with their business objectives. Accurate fan data empowers them to do exactly that in a quantifiable way.
NTT DATA is invested in uncovering fanalytics in the industry. Last year's technology at The Open made use of artificial intelligence which, for the first time, analysed the facial expressions of fans, using that data to produce targeted content about the day's play, presenting it to spectators in real-time.
4. Improving the performance of players
Empirical analysis in sports has come a long way from its use in baseball in the 1970s, and today, sports of all types have incorporated data to improve performance. In the world of golf, for example, a whole new range of devices are available: AI now exists which can measure minute changes in swing motion using high definition cameras; AI can also interpret body, arm, hand club motions, balance, weight distribution, as well as ball flight.
For the Major League Baseball (MLB) in the US, NTT DATA has created a VR environment which helps players in training. Using the data points generated by the cameras and devices, we're able to create an accurate representation of a real pitch that can help players practise while off the field.