We live in uncertain times. With the world outside of work changing at a rate most of us struggle to keep up with, the last thing we need is chaos and confusion in the workplace. At NTT DATA, we believe work should be a place of calm and unity, where we have clear objectives, work in aligned teams, and strive towards a common goal.
Project managers are under pressure to deliver results whilst maintaining agility, but the most important investment you can make is in the team that will get you there.
Creating a positive ecosystem in the workplace is a job that requires equal parts consideration and effort. See it as a process, something that every employee will contribute to, and by the end, something that every employee will be satisfied with. In this blog, we'll explore the core principles you can follow to truly make a positive difference in your workplace.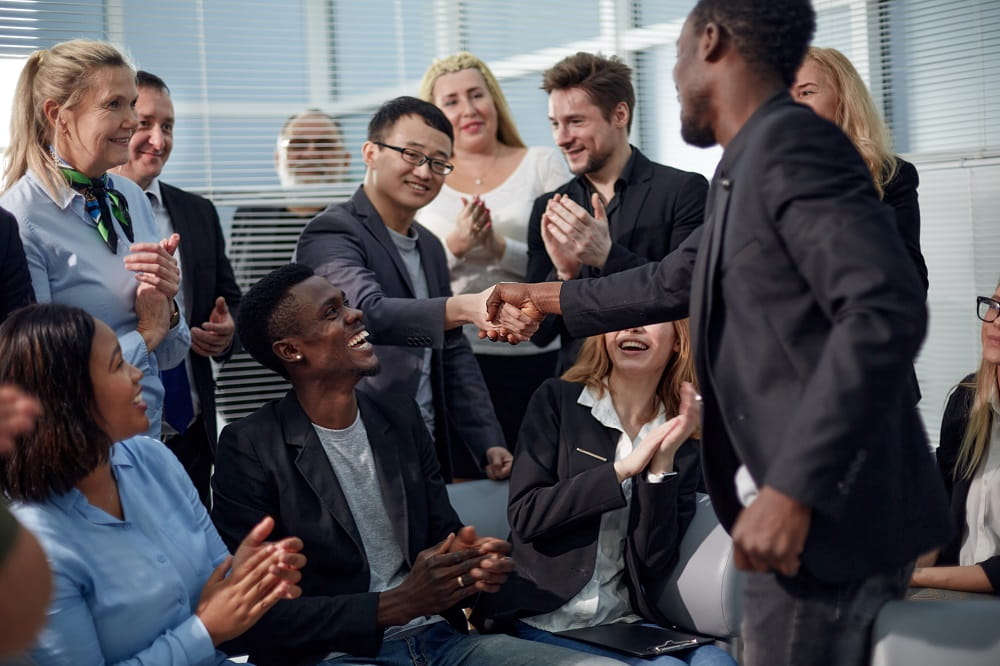 Creating a workplace tribe
Business and IT transformation is an endeavour that requires strong leadership and familiarity with a wide range of approaches, methodologies, and frameworks. However, as you apply these structured tools, it's important to compliment them with a more human, purpose-based approach. The key to building and leading high-performance teams is to embed a sense of purpose – with everybody working towards a common goal.
Creating a workplace "tribe" is a long game: it's critical to take time to properly invest in each and every member of the team, understand their needs, and ensure that their voice is heard.
How OKRs help your team succeed
To reach their goals, teams need a common objective that can be measured and tracked. Objectives and Key Results (OKRs) is a goal-setting methodology designed to do just that, regardless of methodology: agile or waterfall. One of the core objectives of implementing OKRs is to ensure clarity and alignment across all levels of a team.
When different team members are on different pages, chaos ensues, and everyone is left feeling disengaged and unmotivated. No one likes crossed wires, and OKRs make the team's collective goals and the progress of those goals crystal clear from start to finish.
Typically, OKRs set out a clear objective along with several key results. The idea is to set an end-goal that is totally clear to every member of the team, stimulating a feeling of common purpose and alignment. Once you've set this objective, your team can then define benchmark criteria to track its progress toward achieving its goals, constantly reviewing to see how these aims fit with the overall corporate strategy.
Transformational leadership
When there are several different teams completing their own tasks at different speeds, no one tool can provide you with the ideal outcome. You must combine in-depth knowledge of your project delivery approach, continually invest in ensuring you have high-performing teams and set clear goals to make a successful transformation.
There is no approach that will suit every business. You need a partner who can work with multiple frameworks and methodologies to get you the results and transformational leadership that you need. In our experience, using an enterprise agility approach such as Scaled Agile Framework (SAFe) can make this a lot easier to achieve as it has in-built mechanisms and tools that if used well support the transformational journey.
By creating a tribe with a sense of purpose and giving that tribe a clear direction, you can combine these measures with tried-and-tested frameworks, such as SAFe, to lead a successful transformation in an Agile way, which is what most businesses want today.
At NTT DATA, our SAFe Programme Consultants (SPCs) leverage the Lean-Agile-Leadership competency of the SAFe Framework to help your team track, measure, and iterate towards the results that matter to you, whilst maintaining momentum and a sense of community.
We're proud to have been certified as a Global Transformation Partner by Scaled Agile Inc.
Our SPCs offer a powerful approach to transformation, providing coaching with the SAFe framework and complementing it with purpose-driven teams and OKRs.
To see how we can tailor a programme for your transformation, get in touch with our Enterprise Agility team and our Project Enablement Practice today.