We are approaching the one-year anniversary of receiving the prestigious 'Microsoft Government Partner of the Year' award, a milestone on which we have been reflecting as a team.
At NTT DATA, one of our ambitions is to collaborate with UK Government, developing technology solutions and making a tangible difference in society while putting people first. That's why we were immensely proud to have been awarded the Microsoft Government Partner of the Year Award for 2022, a testament to our commitment to Public Sector transformation.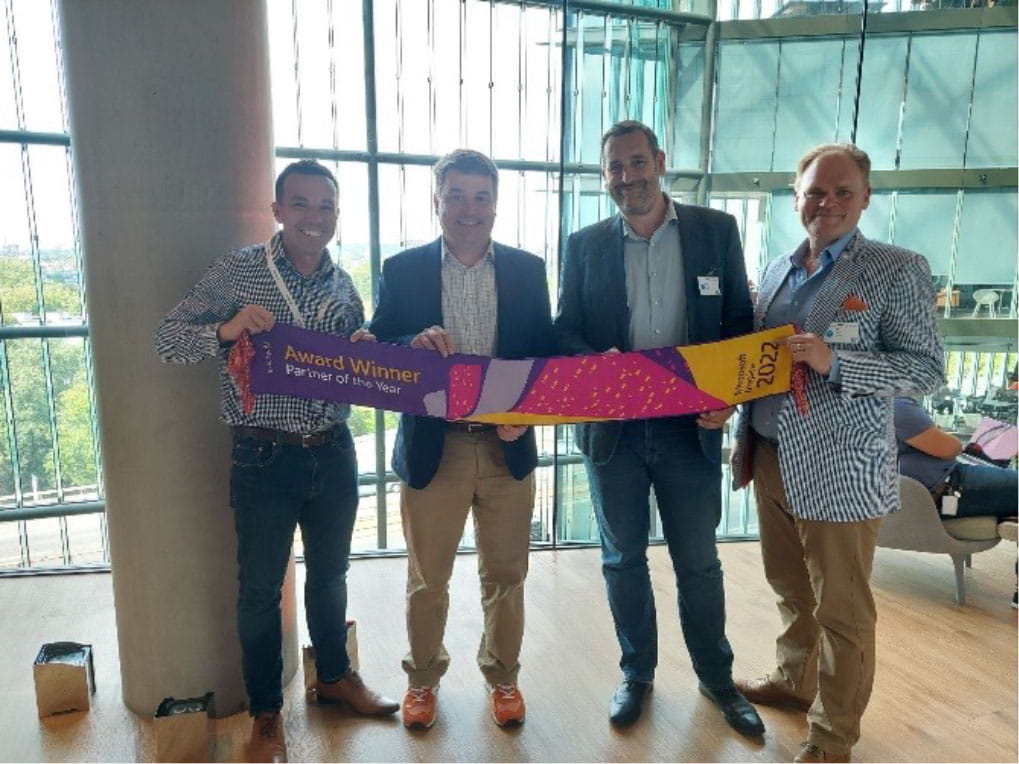 The values we share with Microsoft have allowed us to collectively forge a partnership rooted in one common goal: making a meaningful difference to society. To celebrate the anniversary of the award, as a team, we discussed the remarkable projects that have emerged from our collaboration with various Government departments, each one leaving a lasting impact on the lives of individuals across the country.
In our reflections, we concluded that the shared ethos between NTT DATA UK&I and Microsoft, the impactful projects we carried out in partnership with various Government departments, and our focus on improving the lives of people across the country were key components of this achievement.
Here are some of the most important projects and initiatives that helped us win this award.
Transforming Public Services
At NTT DATA UK&I, we recognise the value that the Public Sector brings to individuals on a personal level. As citizens, we have all benefited from public services and understand their vital role in society. It is this understanding and commitment that drives our ambition to unlock significant value for Departments.
One of our standout projects is the Intelligent Safeguarding solution, which is revolutionising the way victims are protected and empowering the Justice system to combat crimes more effectively. By leveraging advanced technologies such as artificial intelligence, machine learning, and data analytics, we have developed a system that enhances safeguarding measures for vulnerable individuals.
Our safeguarding solution saves lives by providing timely interventions, early detection of risks, and improved support systems for victims. Whenever we collaborate with organisations in the Public Sector, our ultimate aim is to contribute to a safer and more inclusive society.
Delivering Services That Make a Difference
Additionally, our partnership with the Insolvency Service resulted in the birth of a transformative initiative known as the Debt Respite Scheme (Breathing Space). This service provides much-needed support to individuals facing problem debt and the associated well-being challenges.
By leveraging our expertise in digital transformation, we have empowered people to navigate complex situations more effectively and offer compassionate solutions to those struggling with debt. Our aim is to provide individuals with the breathing space they need to regain control of their financial situation and overall well-being.
Another example is our dynamic partnership with HM Treasury, in which our primary goal was to modernise technology services, empowering the department in its mission to effectively steer the UK economy. Through the implementation of cloud services and transformative data solutions, we have provided HM Treasury with the services to be a modern 'cloud-first and data-driven Department'.
Another factor that fed into our award win was demonstrating that, by working with Microsoft, we're supporting how UK PLC takes innovation across the globe. This is key to supporting growth and promoting a thriving, global UK.
Together, we have enabled Government agencies to make astute, well-informed decisions, optimise resource allocation, and deliver impactful policies that foster improved services across the entire nation.
Recognised for Excellence
The Microsoft Government Partner of the Year Award serves as a testament to the team's dedication, expertise, and innovative approach to transforming the Public Sector through technology. We are proud that our commitment to making a genuine difference in people's lives was a key factor in receiving this prestigious honour.
A big thanks to Microsoft for their partnership.
Finally, behind the award is hundreds of NTT DATA people doing amazing things to deliver for the UK Government. Thank you.
To find out more about our work with Microsoft and UK Government, please get in touch.