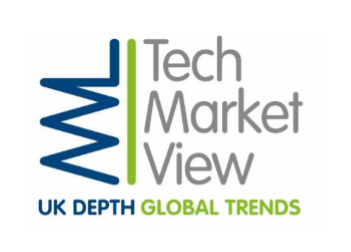 TechMarketView revealed their 2019 UK Top 20 'Growth Stars' at their annual presentation and dinner on 12th September 2019. Effortlessly making the Top 10, NTT DATA were placed an impressive 6th, with the added accolade of being declared a 'Double Digit Growth Star'.
In his inimitable style, TechMarketView co-founder, Anthony Miller, delivered the Growth Stars 'Top of the Pops' countdown, referring to NTT DATA thus, "…and at number 6 is a Japanese giant which is proving an exception to the rule that telcos should never dabble in IT services, but the IT services arm of this telco has been quietly and consistently doing the business here in the UK. I mean, 20% growth – what's not to like? They're certainly dialling up the right numbers…at NTT DATA."
Tech MarketView continues to track NTT DATA's progress in the UK with great interest, with Anthony Miller recently commenting, "NTT DATA does a pretty good job of hiding its light under a bushel, but it is actually one of the faster growing IT services suppliers in the UK. And I would say its light shone even brighter at Epworth House, the company's new Innovation Centre in Shoreditch when the company demonstrated some truly innovative technology solutions developed in partnership with prominent UK medical institutions, including a haptics-based navigation device for the Royal National Institute for the Blind, and an AR portal for Great Ormond Street Hospital, which aims to put kids at ease when they are admitted."
And it's not just in the Healthtech arena where NTT DATA's presence is being felt. Jon Davies, TechMarketView's Financial Services Research Director, reporting on his attendance at Sibos 19, the world's pre-eminent (and largest) gathering of the banking and payments industry said, "I also spent some time with the folks from NTT DATA and their banking consultancy team at everis. Despite its scale and industry footprint, I suspect that some within the banking industry may not be especially familiar with the NTT brand. Those that make the connection will discover that the company and its everis team comprises some great industry expertise and can also call upon some impressive financial services references."
An impressive 'Growth Star' indeed.
Distributed with permission from TechMarketView LLP.