Today, Alex Chisholm, the Civil Service's Chief Operating Officer announced the winner of the Civil Service Data Challenge. The winning idea, which aims to help tackle the climate crisis and safeguard biodiversity through the deployment of AI technologies on the UK peatlands, will now receive support and backing from NTT DATA to move forward to implementation. The proposal triumphed against three other contenders in the live final, which were all highly commended for their concepts on how to enhance the current use of data within government, future-proof policy-making and improve public services.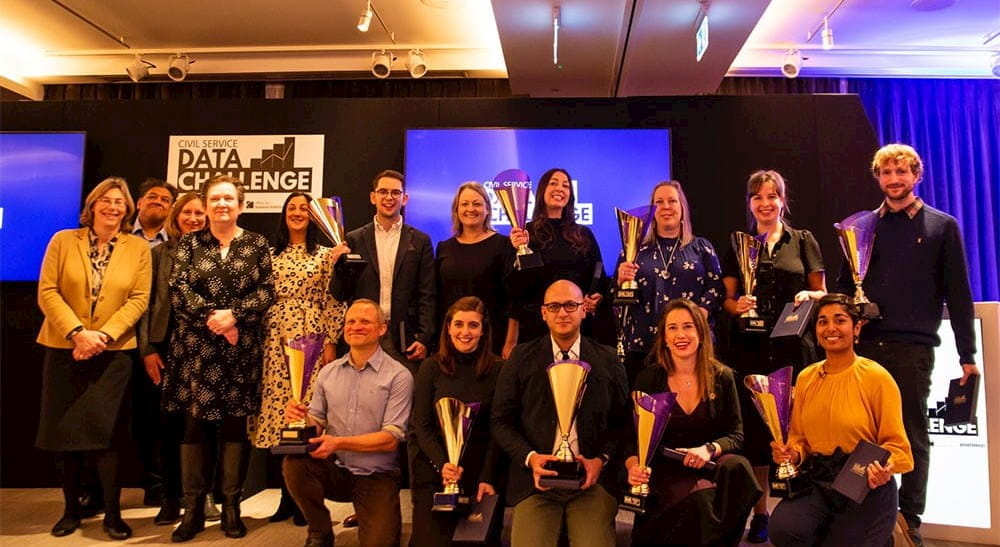 The challenge, which saw civil servants pitching their ideas on how government can make better use of data to a panel of senior leaders in a 'Dragon's Den' style competition, was a collaboration between Cabinet Office, Global Government Forum, NTT DATA and the Office for National Statistics.
From nearly 200 initial ideas submitted by civil servants on how to improve data sharing and data efficiency in government, eight were longlisted, and just four made it to the final stage of the competition. Alongside the winning entry, the other three final ideas included: improvements for identifying construction industry benefit fraud and error; improved data on UK citizens abroad; and better tracking of prisoners' social contacts to support rehabilitation.
These shortlisted ideas – selected as the most feasible to implement and with potential for the biggest return on investment for the Civil Service – were presented at a live event on 9th December to a panel of judges comprising Alex Chisholm, Chief Operating Officer at the Civil Service; Joanna Davinson, Executive Director, Central Digital and Data Office; Henry de Zoete, Non-Executive Board Member, Cabinet Office; Vicki Chauhan, Head of Public Sector, NTT DATA UK; and Tamara Finkelstein, Head of the Policy Profession & Permanent Secretary, Defra.
The event featured presentations from all finalists, detailing the benefits of the proposed solutions and how any challenges to implementation would be overcome. The deployment of AI to protect and enhance UK peatlands was selected for its potential to help lock more carbon into the ground, reduce flooding risk, and assist the government to achieve its carbon emissions targets. In addition, the project has potential to be scaled for application worldwide and a first iteration of the solution can be deployed within a little as three months.
The team behind the peatlands restoration project will now receive technical advice from NTT DATA to the value of £50,000, as well as ongoing support moving forwards to help bring the idea to life, taking its total investment in the project to £250,000.
Alex Chisholm, the Civil Service's Chief Operating Officer and Permanent Secretary to the Cabinet Office, commented: "This challenge attracted a wide variety of truly inspiring submissions from our innovative and creative civil servants, making it a challenge to narrow down the finalists to just one winner. As a result, we're determined to bring all of the eight semi-finalists' projects to life and the civil service will be sponsoring these to make this a reality. However, there can only be one winner and the peatlands restoration project is incredibly important as it benefits the UK government and its fight against climate change. Moreover, it's outstandingly innovative and can be replicated across a number of other industries, including in infrastructure and healthcare. We feel very proud of what this team has achieved and are now excited to see this project come to life and improve our public services."
Chancellor of the Duchy of Lancaster Steve Barclay added: "Using data to modernise public services is a top priority. This innovative project shows the Civil Service at its best and I'm excited to hear about how it drives CO2 reductions."
Vicki Chauhan, Head of Public Sector at NTT DATA UK concluded: "Using data effectively is crucial to the future of the Civil Service and its success. The Civil Service Data Challenge was created to reflect this importance, as well as give Civil Servants an opportunity to demonstrate their vision and see their ideas brought to life. As a result, we've seen some incredible ideas over the course of the competition, and we now look forward to providing the winning team with a platform to realise the vision of restoring the UK's peatlands through the application of AI technologies and contributing directly to the government's mandate of achieving net zero."
For more information on the competition, you can visit the dedicated website:
https://www.datachallenge.uk/
---