The global pandemic has had a strong impact on the insurance industry from different perspectives. Without a doubt, this has accelerated many processes and has made many companies take the path of digitization, betting on it at a moment when an unexpected global event can certainly have an impact on them in the future.
For all this, insurers have sought to adapt to a new digital context, in which many of the traditional insurance processes changed and were redesigned to continue adding value and becoming more efficient at the present time. Technology continues to boost the industry's transformation; bringing new opportunities, social changes, and new solutions to comply with the expectations of consumers, accustomed to great innovations since the arrival of disruptive techs such as sophisticated automation, data driven and processes management tools, Artificial Intelligence, Machine Learning, Predictive Analysis, and Internet of Things, among others.
The new environment where disruption and transformation occur is at the Insurance Liquid Ecosystems, the place where insurers must be. The Insurance Liquid Ecosystems are changing the way insurers interact with customers and the means through which they generate innovation with other players. Collaboration with Tech Giants and other industry leaders within the ecosystems help to find gaps that can bring both beneficial innovation for all the players and of course for savvy consumers who are at the center of this new landscape.
To ensure that all these parties collaborate in a liquid, fast and embedded way, it is necessary for the future of insurance to evolve towards Open Insurance. The evolution of interoperability between the insurance industry and other sectors can be possible by moving from the traditional IT landscape to a new digital ecosystem platform with the help of technologies such as Application Programming Interfaces (APIs).
This fast 360-degree evolution that the industry is experiencing entails another important change, the Value Chain Fragmentation. This has been driven by the disruption marked by the appearance of new players, a changing business context and a new Insurance Liquid Ecosystems landscape. From NTT DATA we understand that a transition from a linear value chain to a dynamic process is already a reality, either if it happens at any specific area within it or at once. Drivers such as digitization, new capabilities, and new players are the key factors who are modifying the way the traditional insurance value chain operates. The insurance value chain steps are no longer orchestrated only by insurers; now collaboration occurs in an ecosystem, with new players that collaborate and move towards new value propositions, which are more adapted to the needs of increasingly demanding customers, who have also greater knowledge or involvement in the process.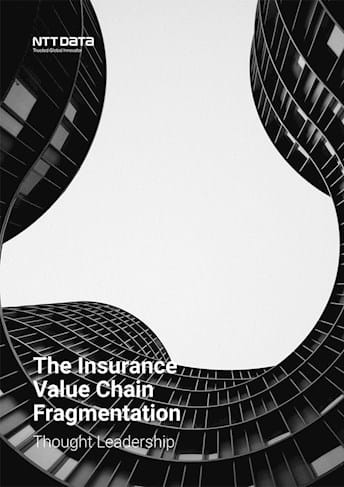 Whitepaper
The Insurance Value Chain Fragmentation Whitepaper
The impact of digital transformation on the Fragmentation of the Insurance Value Chain
Download Whitepaper