Disruption has become the norm. Technological innovation is delivering a new generation of more-capable, more-connected devices while the availability of previously expensive data creates a fertile environment for innovation.
Market entrants increasingly combine existing capabilities in new ways, disrupting established companies from Kodak and TomTom to Jawbone and Blockbuster. While many incumbents drag their heels, newcomers spot opportunities and adapt quickly to meet customer need.
Incumbents must cut costs and innovate rapidly to compete. The alternative is likely to be oblivion. It is expected that over half of S&P 500 companies will be replaced in the next 10 years, and the average lifespan of a company is already falling.
Agile delivery provides a means to mount the fightback, based as it is on principles of decentralised decision-making, empowerment, collaboration, feedback and constant improvement. Agile methodologies can deliver things faster and at higher quality than more traditional, waterfall methodologies.
Many companies have already adopted agile methodologies in some way. The challenge comes when organisations try to scale up their agile initiatives beyond a handful of teams. Further complexity arises when these teams, or parts or them, are distributed across more than one location where skills or cost advantages are being exploited.
This paper explores the benefits of adopting agile and how those benefits can be extended across the whole organisation by delivering agile at scale. The recommendations can be implemented stand- alone or alongside one of the many emerging enterprise scaling frameworks.
We also include some of the lessons learned from NTT DATA's experience of working with diverse clients implementing scaled agile.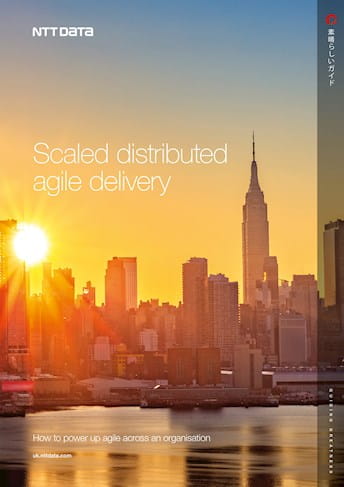 Report - 20 min read
Scaled distributed agile delivery
How to power up agile across an organisation
Download the whitepaper