Blockchain Will Change the World
Blockchain and distributed ledger technology (DLT) will bring our social infrastructure to a whole new level. With these technologies, we can build a data sharing platform with which original data is shared and verified by multiple systems, not by a single company or government, providing an extremely high level of transparency and tamper resistance. The original data becomes accessible to anyone at any time—creating a "ubiquitous original." With these possibilities, we will create a totally new social infrastructure.
Our Leadership
NTT DATA has expertise in blockchain technology and solid relationships with numerous business leaders.
More than 200 members from 20 countries participating in the Blockchain CoE (As of May 2018 )
Blockchain CoE (Center of Excellence) Internationally Recognized Excellence
NTT DATA established the Blockchain CoE (Center of Excellence) in 2017. The CoE works to gather all use cases and commercialization analyses from overseas affiliates in order to utilize them as a whole group. We are working with affiliates in more than 20 countries to explore applications of blockchain technology in a wide range of fields such as finance, manufacturing, and the public sector.
Our Experience in Social Infrastructure
NTT DATA has a long history of building and operating social infrastructure in public and financial sectors such as trade, banking, and insurance. With our wealth of blockchain knowledge and rich experiences in building social infrastructure, we are creating new social mechanisms.
In the Blockchain Services PEAK Matrix Assessment 2019, published by market research firm Everest Group, NTT DATA was acclaimed as a leader in blockchain technology.
"…Leaders have invested ahead of the blockchain adoption curve. They demonstrate the blockchain vision of not just cost savings and process optimization, but also making real the top-line impact of blockchain by showcasing thought leadership on new business and revenue models.…"
Digitalizing the World of Trade
Running the trade business is highly complicated, involving many different types of participants exchanging a variety of documents across borders. It was considered impossible to digitalize with existing technologies. Blockchain will make this possible and bring new value to all users.
Within the trade industry, information is transferred among numerous institutions such as cargo owners, shipping companies, logistics companies, banks, insurance companies, and customs and import/export authorities. It can appear like a worldwide "telephone game" where data gets pushed through an intricate web of networks across the globe. With information fragmented among systems, constant and inefficient data transcription, and risks due to document tampering, so many problems remain unsolved in the industry.
With blockchain technology, we aim to build a platform with which all participants can share information and drastically streamline all the vast and complicated processes. We will revolutionize the trade business in all aspects: security, efficiency, traceability, transparency, and collaboration.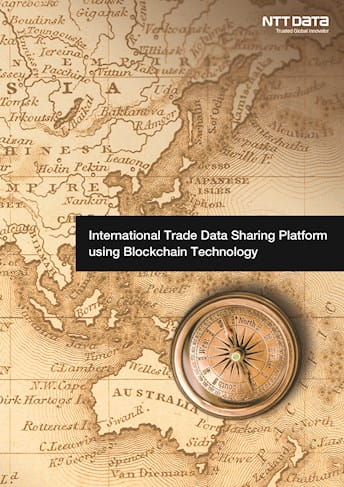 Whitepaper - 10 min read
Blockchain Will Change the World
International Trade Data Sharing Platform using Blockchain Technology
Download Whitepaper