Is your IT ready for the big bounce?
While the pace of the post-pandemic recovery is uncertain, it will surely offer new prospects for growth. To outpace their rivals, telcos will need IT capabilities that can react instantly to new market demands and deliver superior customer experiences.

IT can break through traditional boundaries to help drive business growth, not just support it. The barrier is spiralling system and process complexity. The solution is IT simplification, which means unifying platforms and deploying intelligent automation.

In this webinar discover why IT complexity is the biggest barrier for change within telcos and discover the steps to IT simplification to cut costs, boost productivity, generate higher customer satisfaction and achieve more secure operations.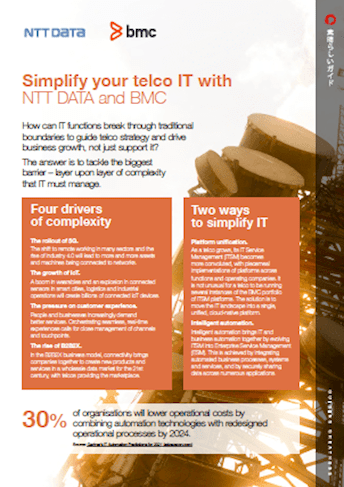 Handout - 3 min read
Simplify your telco IT with NTT DATA and BMC
How to tackle IT complexity to drive business growth
Download now
Our experts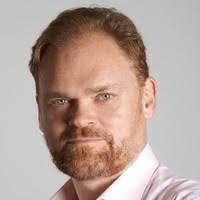 Mike Jones Head of Partners and Alliances, NTT DATA UK
After a career in the Army, Mike Jones has spent the last 20 years in IT Services, in leadership roles spanning sales & operations. Mike is responsible for our Partners & Alliances business, including our go to market strategies. This connects NTT DATA's industry expertise with the power of our Partners' technology to accelerate business improvement & growth for our clients.
LinkedIn Profile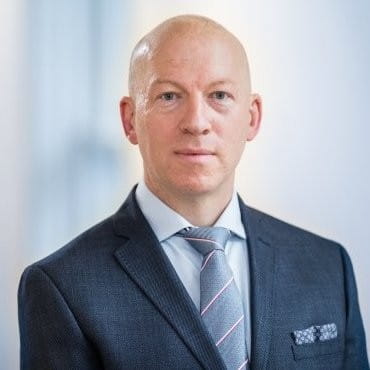 Laurence Norman - Chief Architect, NTT DATA UK
As NTT DATA UK's Chief Architect, Laurence Norman has spent a career transforming telco technology estates to be leaner, more agile, more business focussed and more efficient. A passionate advocate for technology enabled business change, Laurence has more than 20 years experience as a technology leader in telco, media, sports and entertainment businesses. He has been part of NTT DATA UK since 2013
LinkedIn Profile