The world has changed. How corporate clients interact with major brands like ours has evolved along with customer experience. On the basis that you can't improve what you don't measure, we take our annual Customer Satisfaction, Voice of the Client (CSAT VoC) Survey very seriously indeed. By investing a little time in talking to us, our clients are rewarded with an improvement plan tailored to better meet the specific needs of their organisation.
NTT DATA is a champion of better ways of working and we act in close partnership with our clients to keep improving our products and services. Building strong relationships lies at the heart of everything we do, as reflected in our company values of Clients First, Foresight and Teamwork.
The Voice of the Client survey takes the form of a real conversation. It enables you to tell us what we're doing well, so we can replicate successful processes across all of our client engagements. It also means you can let us know if there are any areas where there could be room for improvements. For instance, we use project-based questions to ensure our joint teams are communicating and working together successfully to improve outputs. We also ask about your overall experience of working with NTT DATA so we can align the delivery of our services more closely with your own business strategy.
In other words, we have a strong track record of successful client engagement, but we are always looking for ways to improve. This annual survey is our compass to guide the changes required to drive those improvements. Using the Japanese "Kaizen" (改善) process of continued improvement, the Voice of the Client initiative helps us focus our constant efforts in evolving better products and improved solutions to our clients.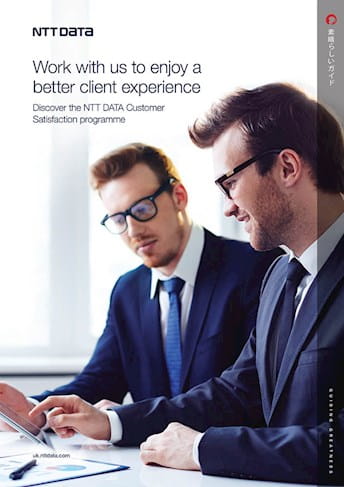 Brochure - 10 min read
Work with us to enjoy a better client experience
Discover the NTT DATA Customer Satisfaction programme
Download Brochure