Transform to stay relevant in a changing world
As the world changes and faces new challenges and threats, evolving forces are making it harder to compete than ever before. The three major challenges facing companies today are a growth in customer expectations, a proliferation of touchpoints where contact is made with customers and growing competition from digital native businesses. All this means that traditional businesses must transform if they want to stay relevant.


A great differentiator
To meet these challenges, providing an excellent customer experience is vital – in fact, 82% of companies see customer experience as a differentiator. Figures show that 93% of customers are more likely to be repeat customers at companies with excellent customer service and that 69% of customers expect companies to use new technologies to create better experiences.

The effect of good customer service is not restricted to customers alone - some 79% of employees at companies with above average customer experience are highly engaged in their jobs and 84% of companies that work to improve customer experience report an increase in their revenue. Ensuring a better customer experience is thus a 'force multiplier' across the whole organisation.


Traditional businesses need to transform if they want to stay relevant


Customer Experience is changing
Customer experience is not standing still – Intelligent Experience is NTT DATA's comprehensive offering to help companies take account of these changes and continue to succeed.

And it isn't just customer experience – building a good employee experience is also increasingly important. Attention to staff welfare and enabling better, smarter ways of working helps deliver better outcomes for customers and boosts productivity and revenue.

For NTT DATA, our vision of Intelligent Experience encompasses technologies and processes that are data driven, omnichannel, real-time, automated, personalised. These are the characteristics of what we see as the most influential technologies driving customer experience over the next five years.

These technologies are: augmented analytics; customer journey management; artificial intelligence powering virtual assistants; digital self-service via web, apps and IVR; intelligent automation; personalization at scale; new digital channels; and biometric authentication.

Evolving forces are making it harder to compete than ever before


The framework for Intelligent Experience
At NTT DATA, we focus on delivering experiences that drive employee engagement, boost customer loyalty and grow long term profitability. We divide the Intelligent Experience into Intelligent Workplace, Intelligent Care and Intelligent Journeys. These three categories are a focus for the varied solutions we offer.
Intelligent Workplace
Under Intelligent Workplace, our solutions are designed to help drive the efficiency, productivity and satisfaction of employees. We focus on end-to-end employee experience and how we can use data driven intelligent solutions to allow smarter ways of working. Solutions include virtual assistants to support employees in their daily work and tools to link staff and help them work more collaboratively.
Intelligent Care
Under Intelligent Care, we concentrate on digital and cognitive services that can transform how customer service is delivered. Here we focus on reducing cost to serve whilst delighting customers and employees. Solutions include helping customers find the best channel for their contact while reducing costs for your organisation.
Intelligent Journeys
Under Intelligent Journeys, we use data to drive personalisation at scale and deliver real-time omni-channel experiences. Our focus here is how to increase revenue while delivering a great customer experience. We offer solutions to help run campaigns with influential customers and to measure customer satisfaction across all segments, amongst others.


Intelligent Experience allows us to manage the complexity of customer journeys and deliver consistent experiences across all touch points
Working together
With our own solutions and those provided by our strategic partners, we are here to help you address your challenges and accelerate your transformation. By applying our Intelligent Experience solutions, we have already helped some leading brands achieve their goals as they meet the challenges of a changing market and greater customer expectations.


Disruption:
For Vodafone, we applied our lean start up approach to help launch a second brand in Italy, helping them meet the challenge of a new provider.

Delight customers:
In the UK telecom sector, we have worked with leading providers such as EE and Virgin.


Innovation:
For clients including Iberia and Telefonica, we have provided multichannel virtual assistants to engage customers in natural conversations.


Differentiation:
For UBS, we delivered an award-winning multi-asset single dealer trading platform.

These clients have all gained from working with us to transform the experiences they deliver – with our experience, partners and solutions, we can help you meet your challenges and make your own transformation journey
A glimpse into Sitecore Working or not
What technological and legal prerequisites must be fulfilled or must first be established? What can (and must) the automotive and supplier industries do now to set the course for the future – a future that belongs to autonomous driving?
Does Sitecore work or not?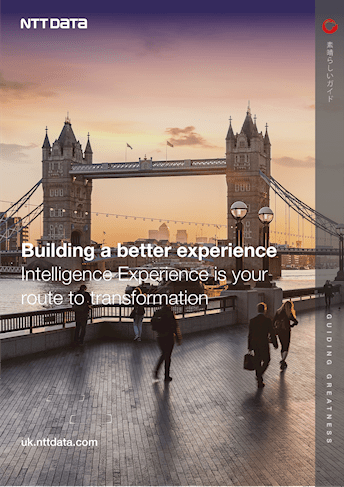 Brochure - 7 min read
Building a better experience
Intelligent Experience is your route to Transformation
Download Brochure