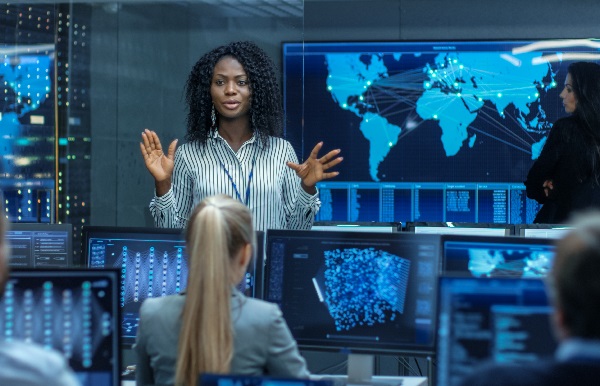 An unfortunate truth is, despite society moving towards a more inclusive and diverse culture, women are still underrepresented in the tech sector. In fact, 78% of students can't name a famous female working in technology – which is hardly surprising when you consider that a mere 5% of leadership positions within the industry are held by women
In many ways, this feels like a backward step. The technology sphere once had a notable, if underappreciated, female influence. Think of the codebreakers of Bletchley Park during the second world war or the women working in the West Area Computing Unit of NASA – recently dramatised in the film 'Hidden Figures'.
In order to redress this imbalance and get females excited about the tech sector once again, companies must be proactive in promoting supportive environments that are attractive to young women entering the workforce.
Commitment to change
At NTT DATA, we understand the vital importance of gender equality and are dedicated to taking meaningful action towards bridging the gap.
We reward employees based on performance – all staff have equal opportunities to participate in incentive payment plans – which has seen an increase in mean and median pay-outs for women. In fact, we've improved the median pay imbalance between men and women from 15% to just 2% in recent years.
However, we're aware that's just one piece of a larger puzzle – women still need to be provided with more opportunities across the industry as a whole. And this starts with young women being empowered to develop their careers with the help of strong role models.
That's why NTT DATA has implemented a mentoring scheme from RISE, an advocate group for gender diversity. It gives younger women the opportunity to gain feedback and advice from an impartial, experienced mentor in the tech field – identifying goals and developing career progression strategies.
And these values are being reinforced internally. An employee led group known as "Women Inspiring NTT DATA" (WIN) now spans across the globe. It allows women within the company, from America to Asia, to collaborate closely and work to advance a more female-friendly and inclusive working environment.
Recently, senior executives met with several dozen WIN representatives in Milan to further expand NTT DATA's official support for women's empowerment.
Inspiring the next generation
In the UK, ensuring women's contributions in the tech sector are recognised and celebrated is essential to helping others aspire to achieve similar feats. Events such as the Midlands Women in Tech Awards, held in Birmingham earlier this month, are a perfect example of this.
The awards, which NTT DATA are a proud Diamond Sponsor of, shine a spotlight on the women who are showing the next generation of young females that a career in tech can be both exciting and fulfilling. There were many inspiring winners on the night, from a varied cross section of the industry.
Innovation relies on diversity of opinion and experience. To ensure they stay competitive in the global market, tech businesses must create a culture where women are encouraged to fulfill their full potential or risk missing out on a crucial source of creativity.
Co - Author: Manjinder Dhaliwal, Service Management Officer.