Job seekers returning to work often find themselves in a bind. They've had a great start in their careers, excellent skills, sought after degrees and yet their lack of recent work experience means employers are reluctant to hire them. How do you get experience if no-one is willing to give you a chance?
Many people who have taken career breaks, or decided to change roles altogether after Covid, have found themselves in such a situation. In 2020 NTT DATA UK decided to tackle the issue head on. Combining a commitment to building a more diverse workforce while fulfilling a business need to access a digital talent pool, NTT DATA embarked on a brand new hiring adventure. This is the story of the NTT DATA Tech Academy program.
What is this project and how did it come about?
Kate Daniels: The program was initially established to resolve a recruitment challenge. We needed cloud native engineers but found it difficult to source the talent which meant hiring was incredibly expensive and difficult. We simply couldn't scale at speed and so we realized we needed to grow our own talent. We came up with the Tech Academy as a solution to the problem. We began the process with an organization called Route2Work hiring the 20 candidates we felt showed the greatest potential. They started their training with NTT DATA and after the first month they could choose their preferred track – DevOps, Quality Assurance Testing (QAT) / Application Enterprise Management (AEM) or PowerBI. They continued with this track through to graduation. Then Covid hit and we were forced to adjust. We moved to virtual learning but it was difficult.
What type of candidates are coming forward for this opportunity?
Sammi Evans: It's a total mix. Many of the DevOp teams have come from careers in hospitality. We've had a Chef from the Shard, a wedding caterer, an Etsy seller… all completely different. In Data, many of the people are returning after career breaks having worked in technology previously. The variety of their backgrounds is so good for improving our diversity and brings a greater richness to our teams. Out of everyone I look after, this group are the most energetic, enthusiastic and really enjoy working here and that's a such a joy to work with people excited about their jobs. They've brought a real energy boost to the team.
Here are a few examples of some of the candidate profiles coming through:
Candidate A: FEMALE
Worked as a part-time cleaner while completing a Masters. Completed a degree in IT before getting married and starting a career in marketing. Now ready to fulfil an ambition in IT.
Candidate B: FEMALE
Worked in hospitality before COVID. Once the pandemic hit she moved into website building and has been doing this since. Self-learner for four years in web design and development.
Candidate C: FEMALE
Currently a Casino croupier, wants a change of career into IT/Data. Self-learner in a couple of IT languages. Also been doing codecademy courses in Data Engineering in spare time.
How have you seen the program develop, have you made any changes?
K.D: Every year we slightly modify the program. For instance we started working with Hatch [a digital subsidiary of Route2Work] and gave them the responsibility for hiring.
S.E: With Hatch we agreed the outcome criteria so that everyone who graduated would be guaranteed an interview. By shifting responsibilities there was a clearer clarification of each of our roles and the result was better outcomes. In January 2022 we enrolled 18 new candidates of which 11 sit in DevOps and Data.
K.D: We also started to align with key alliance partners and that helped significantly. It improved the publicity of the roles and provided a draw for candidates. We advertised using LinkedIn and attracted candidate attention by highlighting opportunities to develop Microsoft skills. We'd like to go further and offer goody bags and tours. The four workstreams we have today are: DevOps, Data engineering, Cloud azure management and Microsoft platform.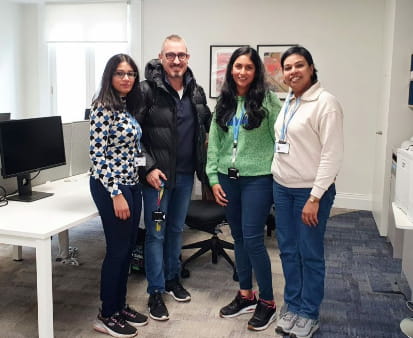 Tell me more about the program's role in focusing on women
K.D: In the summer of 2021 our CEO challenged me to focus on an all female version of Tech Academy. We wanted to focus our recruitment on female hires as we saw a gap in our workforce diversity. We worked very closely with our partners to come up with the right syllabus from technical skills through to cultural understanding and we offered a retail academy with 30 sponsored places available. All of the women were guaranteed an interview with NTT DATA and we committed to hiring 20.
We still continue to evolve as the market changes to ensure we maintain diverse and balanced teams.
How is this different to other programs?
K.D: There's a strategic imperative around talent so it's a genuine answer to a business challenge. This solution is not just a sticking plaster – we are really building the talent and that is generating much greater employee loyalty. There is a huge sense of gratitude because these candidates just weren't getting anywhere before – employers were turning away these great candidates because of a lack of experience or skills and we're changing that.
They present a huge pool of untapped talent. Some even had degrees in tech subjects but no-one was going to take a chance on them without recent experience. With Route2Work the commitment was for all to secure employment upon completion of the training so even if they didn't find a role with us, they were given the chance somewhere else. It aligns with our value of building a meaningful career when no-one else was willing to give them a chance.
What have you learnt along the way?
K.D: Large corporations can be a very strange place to work if you're not used to it – there's the dress code, unspoken rules of general conduct, business meeting etiquette and so on. There's continuous learning and given the variety of their backgrounds it can be difficult to know how to navigate certain situations.
To remedy this we organized group coaching as a safe space where our members could share any worries or concerns openly. Their feedback is then anonymised and shared with us so that we can better understand how to develop the training. This really varies from how to manage and align expectations, to workload management, learning about the company or just building confidence. We're doing more in mental health now as an organization too.
What would be your advice to others?
K.D: An ageing business is a dying business. Clients will challenge our HR and D&I attitude. If you're not uncomfortable, you aren't growing. Being at the edge of your comfort zone is where you learn the most.
S.E: We get so much from it. In DevOps it's really hard to retain people but the key is building a strong team and culture. This group of hires is keener than most to be in the office as they've formed a community. Bringing people in at the start means they are much more likely to learn and grow and those managing them have a greater sense of responsibility and variety doing more than one role on one account. This year has been super competitive so we are now investing more to improve their skills and ensure continued job satisfaction with us.
K.D: I have done many things in my life but this is the thing I am most proud of. At the Academy we are genuinely changing lives.