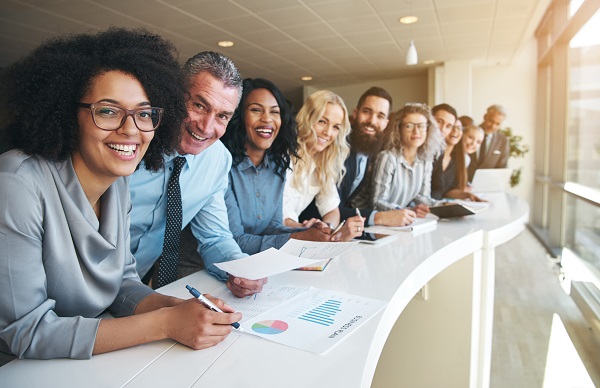 With 70% of new hires making the decision to stay or leave within their first six months, there's an ever-increasing pressure for organisations to step-up when it comes to onboarding new staff.
In this post, the first in a series about effective onboarding, we'll explore the opportunities to improve these crucial initial experiences for employees.
Because great onboarding involves more than simply handing out a security pass and a first day induction – it requires a user-centric focus on technology, the physical workplace and organisational culture.
Support and structure
Let's take Sam, for example, a talented experienced hire with five years of professional experience and a first-class CV – she's excited to join her new organisation and hopes to make a good first impression.
But will Sam be happy if her manager is late to their first meeting? Or surprised when her laptop is not ready? Unfortunately, Sam doesn't know where to sit or who to ask for help. 'That's fine though,' she might think, 'the first day is always hard.'
But does it have to be? Wouldn't it be easier if Sam was provided with all the relevant information and her induction plan prior to day one? What if, on her first day, she was given a laptop and an office tour?
She could perhaps get a cup of coffee with her manager, which would give them an opportunity to get to know each other and discuss opportunities and expectations. There is always a ramping-up period, however the more support and structure is offered to the employee, the sooner they can find their footing, fully engage and make an impact.
It's essential to take time and think about the on-boarding strategy. Consider what is important to your organisation and what is important to the individual. We recommend mapping and shaping your on-boarding journey end-to-end by breaking it down into three key phases:
Pre-boarding
Induction
First Year
Within each phase, consider the role that culture, technology and workplace play to ensure your new joiner is appropriately supported.
Pre-boarding: a closer look
What steps should you take once your candidate accepts the offer, but before they set foot in the office? While many companies consider this period as waiting time, a well-structured pre-boarding experience can reduce the risk of candidate's last-minute withdrawal, save precious induction time, and most importantly build early engagement and real excitement.
Culture
Corporate culture is often a key element that draws a candidate towards an organisation, persuades them to join and ultimately convinces them to stay long-term. That's why it's so important to make a great first impression. Ensure your pre-boarding strategy reflects your culture, proving to new joiner's that they've made the right choice.
Help them build their network and a sense of community early by offering to arrange an informal chat with their manager or peer before their start date.
Consider sharing your company's vision and values; this will help your new joiner to align their expectations and behaviours. Remember that the pre-boarding experience should be a celebration rather than a formality.
Workplace
It is valuable to provide your new employees with useful workplace information prior to day one. Where should they go? What should they wear? Where can they get their ID?
Try to offer this information proactively in order to reduce their anxiety and help to build the required knowledge as early as possible. Consider how your workplace aligns with your culture. For example, an organisation that values well-being, should provide information on bike storage and lockers to highlight their approach and focus.
There should be continuity between the interview stage and day one, ensuring the environmental elements reflect the same culture the candidate said 'yes' to and providing re-assurance at this crucial stage.
Technology
Following an often stressful and drawn out recruitment process, technology can help create real excitement before day one and launch your employee into a productive career. Make a positive impression by handling all administrative work remotely ahead of time.
Implement a user-friendly self-service portal to share relevant information such as the site-map of your office or the induction plan – early engagement will help to prepare your new joiner for a successful start.
Create an integrated process
Many people wonder if they'd be better off staying at their current company or accepting another role – hesitation is natural when making important career decisions. That's why a structured and comprehensive pre-boarding experience is key – it helps reassure your new starter and demonstrate they've made the right decision by joining your organisation.
And by taking the time to put in place an integrated process that supports people from the earliest stages of employment, you create the right conditions to achieve high levels of engagement, productivity and effectiveness.
This is true for Sam, our brilliant IT Specialist. No longer nervous, Sam is excited to join her new company and curious to learn more during her induction process – which will be the focus of the second post in this series, as we continue our look into onboarding best practices.
Next posts
Authors
Bethan Trundley, Justine Healey, Martyna Suchodolska and Natalie Porter are Business Consultants at NTT DATA UK.
The team focuses on employee experience and brings together strong industry experience from various sectors, including Telecoms, Public Services, Insurance and Financial Services.