On October 27th, I completed an epic 1,400km expedition on foot across the mountains of Morocco. The 68-day exploration began in Nador on the Mediterranean Coast in August, soon after Morocco's strict lockdown had been lifted, and finished in Ouarzazate at the mouth of the Sahara. It was an extraordinary and sometimes difficult experience and felt as if I was walking through history.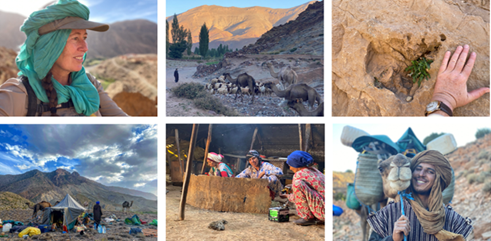 My expedition team comprised of Amazigh (Berber) guides – Brahim Ahalfi, Addi Bin Youssed and Ali Ahalfi – and 6 camels: Hamish, Hector, Jock, Willie, Farquhar and Sausage.
This trip was the third part of my Morocco exploration, and I have now walked the entire length of the country, around 4,000km. When I started in 2019, I never could have imagined that I would be finishing my expedition in the middle of a global pandemic. Having to factor in coronavirus concerns was a huge headache for the team, knowing that the journey could be stopped at any moment.
The journey unfolds
At the beginning of the journey I had wondered what it would be like to meet farmers and nomads during this time. Our first indication was a man in his sixties who was harvesting his almond trees. He saw us walking up the hill and climbed down, inviting us for tea at his house.
As we kept going, people came out of their houses to shower us with gifts of food: freshly baked bread and bags of deep purple and lime green figs straight from their trees. The women greeted me with kisses, and we all drank from the same glass and ate from the same plate. I was struck by their kindness in spite of the pandemic. In the 1,400km of walking, every single community we met, told us that they'd had no cases, but the economic effects had been devastating.
Search for dinosaurs
Coronavirus aside, the aim of the Atlas expedition was to find dinosaurs, and after nine weeks of searching we found them in the area near Mgoun – a towering peak in the Atlas Mountains. We used our climbing equipment to reach and measure a series of prints made by Sauropods millions of years ago. The drop below was enough to kill you if you fell off the cliff; the excitement of putting my hand in to one of the prints provided a welcome distraction! After all our hard work, it was an incredible feeling to get so close to a little piece of history, hidden away on a cliff in the heart of North Africa's most majestic mountain range.
It was a real honour to spend time in this beautiful country. At a time of great uncertainty around the world, this expedition would simply not have been possible without all my expedition team – who rose to the challenge like the consummate professionals they are.
You can learn more about my adventures at https://www.alicemorrison.co.uk/.
NTT DATA UK
This trip would also not have been possible without sponsorship from the NTT DATA UK Diversity and Inclusion Team.
Kim Gray, Head of Diversity & Inclusion at NTT DATA UK, commented "it is wonderful to hear about Alice's latest expedition and her discovery of dinosaur footprints. Businesses need to do more to encourage and support women to undertake challenges like this. Role models are incredibly important – Alice will serve as an inspiration for younger generations and show girls that they can achieve anything they want to".
"At NTT DATA, we place a real significance on creating an environment where a variety of different voices are encouraged and heard. These voices come from people of different gender, sexuality, race and ethnicity. We respect the diversity of employees and maximize their capabilities to enhance corporate vitality. In sponsoring expeditions, such as Alice's, we are showing our employees our commitment to diversity and inclusion and our desire to make a real difference".
"We are committed to ensuring that every person feels welcomed in our workplace" added Kim. "Part of that work is celebrating and supporting the work of a diverse range of individuals. Alice is a trailblazing pioneer for women across the globe, redefining the limits of what is possible in a field traditionally dominated for centuries by men."