Organisations are increasingly adopting FinOps practices to effectively control cloud costs and optimise their cloud environments. The growing adoption of more extensive and complex cloud technology has led to an increased requirement for FinOps and cloud optimisation, which enables organisations to align their financial goals with their cloud usage and reduce cloud costs.
According to the latest forecast from Gartner, worldwide end-user spending on public cloud services is forecast to grow 21.7% to total $597.3 billion in 2023, up from $491 billion in 2022. While much of this will be a result of growth in adoption, analyst house Canalys predicted last year that it expected public cloud prices in Europe to increase at least 30% in 2023. As more applications and processes move to consumption based costs in cloud, the more complex and expensive it becomes to run and manage them.
As such, FinOps is necessary to provide a framework and cultural change for organisations to control and optimise their cloud spend and to ensure that they are getting the most value from their cloud investments. Through FinOps, businesses gain visibility into their cloud spending and usage patterns, allowing them to make informed decisions about deploying new services or modifying existing ones based on cost and performance data. Additionally, FinOps practices help bring senior leaders together with IT, Finance and Lines of Business. This improves overall organisational efficiency and agility, as well as providing a more dynamic approach to both proactively and reactively optimise cloud consumption.
Many organisations are leveraging FinOps best practices as a core part of their cloud strategy to maximise ROI and improve their overall cloud utilisation. However, many are not achieving the full benefits of FinOps yet. This can be due to a variety of reasons such as inadequate expertise, lack of tools and resources, or not optimising their cloud environment based on the insights gained from FinOps.
The challenges of achieving cloud optimisation
According to research from the FinOps Foundation, the most common FinOps challenges are:
Getting engineers to take action on cost optimisation – 30%
Accurate forecasting of spend – 29%
Organisational adoption of FinOps – 22%
The FinOps Foundation's survey results highlight the challenges organisations face in extracting value from cloud technology, and that many of these are business rather than technical challenges. Identifying and assessing these areas can help organisations focus on key challenges and optimise their cloud environment to achieve value.
So, how can organisations address and overcome these challenges?
FinOps in practice
Through our expertise in cloud optimisation, we've developed the NTT DATA FinOps in Practice framework, which sets out the key stages to overcoming challenges faced when striving for cloud optimisation.
Firstly, it's imperative that business change is a foundation. You need to be able to change the culture and your processes to build FinOps into your project lifecycle and your IT operations. You will need to look at how your teams are structured and who will be involved in FinOps, which to some extent, will be everyone, but there will be key people who drive that capability and come together. Without this initial stage, you'll never fully achieve the second stage of cost optimisation, but because FinOps touches on a lot of other frameworks, it requires highly specialised and experienced individuals to identify the areas for change.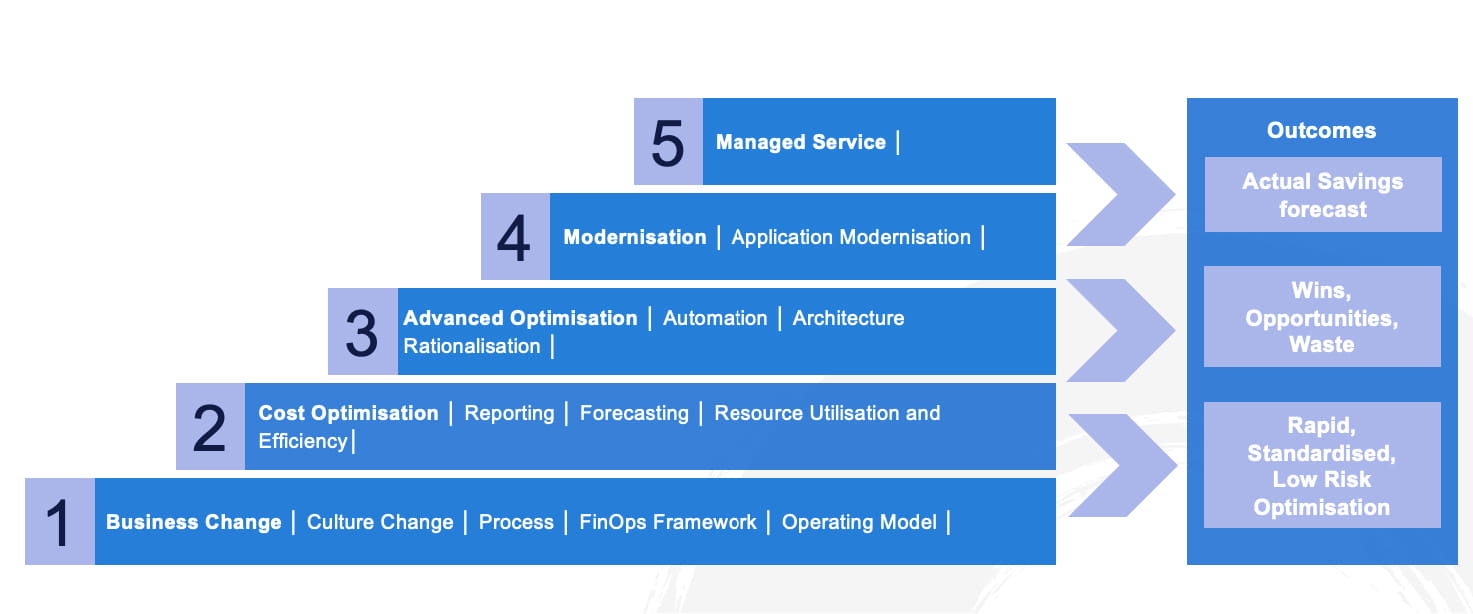 The outcomes of this framework include forecasting to deliver predictable expenditure and advanced reporting such as our Wins, Opportunities and Waste Approach (WoW):
Wins track what has and is being achieved
Opportunities look at the size and difficulty of potential savings, and
Waste identifies what should have been achieved and has been missed to identify and fix problems that are constraining success.
Throughout the framework, it's key to adopt several principles (as defined by the FinOps Foundation) in order to be effective at every stage:
Teams need to collaborate
Everyone takes ownership for their cloud usage
A centralised team drives FinOps
Reports should be accessible and timely
Decisions are driven by the business value of cloud
Take advantage of the Cloud variable cost model
Through this framework and key principals, we are helping organisations achieve FinOps success.
A FinOps success story
One such client we have achieved FinOps success with is a major Telco provider, which within a matter of weeks of starting to deliver a FinOps approach and ongoing cost optimisation service, we brought annual savings of $3.5m.
The Telco provider required a FinOps framework with processes, policies and KPIs and measurable impact and targets. While working closely with the customer, it was clear that there were a number of key challenges to overcome. Firstly, cloud cost saving was not embedded in the company culture and there was no supplier buy-in. Architecture patterns were not optimised and there was a general lack of governance and accountability.
We worked closely with the organisation to provide direction, structure, and ultimately, control. We deployed and delivered a governance model, and helped develop the internal client capability to provide a long term FinOps and cost optimisation strategy that delivered many times the initial saving in the longer term.
Through this example, it's clear to see that time-to-value is incredibly high with FinOps, meaning when working with the right partner, you stand to gain value immediately.
At NTT DATA we have successfully delivered several FinOps projects for our clients across industries such as insurance and automotive, while also helping them establish their own capabilities.
Our FinOps fast start accelerators are designed to assist organisations in rapidly maturing their FinOps capabilities with the desired outcomes, and we have a proven track record of delivering a high level of savings, with a gainshare based commercial model offering.
If you'd like to discuss you cloud optimisation journey further and how we can unlock your full potential through FinOps, please contact me today: Jonathan.Wood@nttdata.com.