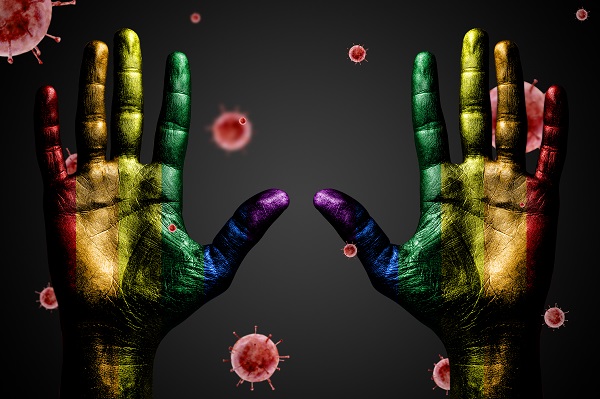 The coronavirus crisis is a difficult situation for us all. Whether you've lost loved-ones, have fallen ill yourself, or are struggling with loneliness and isolation – this is a time when we need to show more compassion for one another than ever.
This is especially true for the LGBT+ community, who are facing a number of additional problems during the crisis. LGBT+ people, particularly those from BAME backgrounds, are at a disproportionate risk of becoming homeless.
In fact, according to research carried out by the charity AKT, LGBT+ youths are estimated to make up a quarter of the young homeless population. And this has an unfortunate knock-on effect throughout the entire community.
Unsafe spaces
The sad reality is this threat of homelessness is forcing many LGBT+ people to shelter in unsafe spaces.
Lockdown means that people are having to move away from their homes of choice and back into situations where they potentially face a great deal of hostility – sometimes even from their own family.
Domestic violence is rising around the world during the pandemic. Vulnerable citizens are being imprisoned in a vicious cycle of abuse. Here in the UK, the charity Refuge has reported that calls to its helpline have risen by close to 50% - to around 400 each day.
Social distancing and isolation are taking a toll on even the most privileged among us, so it's hard to imagine how painful it must be to feel trapped living with people who pose a real danger to your physical wellbeing – far from your usual support networks.
Mental health
It's long been known that LGBT+ people are significantly more susceptible to mental health struggles, and the issues we're facing in lockdown are exacerbating this problem even further.
That's why organisations such as the Albert Kennedy Trust are imploring young people to "press pause" on coming out – until they're able to access the support resources they need.
For LGBT+ people who are forced to return to the "closet" because they're living in fear during lockdown, the inability to connect and socialise with friends and allies is extremely worrying.
Encouragingly, at NTT DATA we're seeing more people than ever join our, now virtual, socials for LGBT+ employees and allies. It's great to see people from all across the company rallying round during this difficult period – providing a real sense of community and bonding for those who may be living a different experience in isolation.
Showing resilience
It's important to keep in mind that the coronavirus crisis is impacting us all in different ways – we all have a diverse range of needs that shouldn't be marginalised or overlooked.
For example, LGBT+ people who are immunocompromised are facing a long period of 'shielding', where they're unable to leave their homes for 12 weeks – and this may likely be extended. And unfortunately, BAME people have a disproportionately high death rate after contracting the disease.
This is why we can't take a siloed, "one-size-fits-all" approach to how we support each other through this pandemic. It's essential we keep sharing resources, showing empathy and taking care of those who may be more vulnerable than us, while taking into account their unique needs.
For those of us in the LGBT+ community, we're used to having to show resilience amid great difficulties – and I believe that spirit of togetherness will help all of us weather this storm and come out the other side with more compassion and understanding for one another than ever. It's just that this time, with Pride events on hold until next year, that togetherness can be virtual – as we've been showing at NTT DATA.