Mark Zuckerberg coded the first live version of Facebook over two weeks in his bedroom, but today Meta has more than 83,500 employees spread across multiple geographical locations. Enterprises like these need a way to calibrate and synchronise on what work they are doing.
For Mark Zuckerberg to get an up-to-date view of how Meta's products are developing, to be agile, and to have customer centricity, all teams and team members need to have a synchronised vision and communicate from the bottom-up on progress, as much as they do from the top down.
Scrum of Scrums is one such construct in your value delivery process that can help enterprises to be aligned and transparent.
Scrum of Scrums
In Scrum (and also in Kanban, another agile framework used by IT Teams), team members align and share through 15-minute daily stand-ups.
Likewise, when multiple teams work together for a common goal, they use something called Scrum-of-Scrums with representatives from each team. The main purpose of this meeting is also to maintain transparency and alignment by sharing progress made by each team, monitor inter-dependencies, and align on managing key risks.
Frameworks
There are multiple frameworks being used by enterprises to scale agility across their teams. Each one prescribes a slightly different way that teams should interact with each other.
SAFe – Scaled Agile Framework
53% of enterprises are following SAFe to scale agility across their teams with the aim of delivering value. SAFe refers to the team of teams working towards a common goal as an ART (Agile Release Train).
For an ART to synchronise, it recommends Scrum of Scrums – having a 30-minute call weekly (or more frequently as needed). In SAFe 6.0 this is called Coach Sync. A representative from each team attends this ceremony and shares their updates by answering four key questions:
What did your team accomplish since the last meeting?
What will your team accomplish between now and the next meeting?
Are there any blocking issues?
Are you about to put a block in someone else's way/work?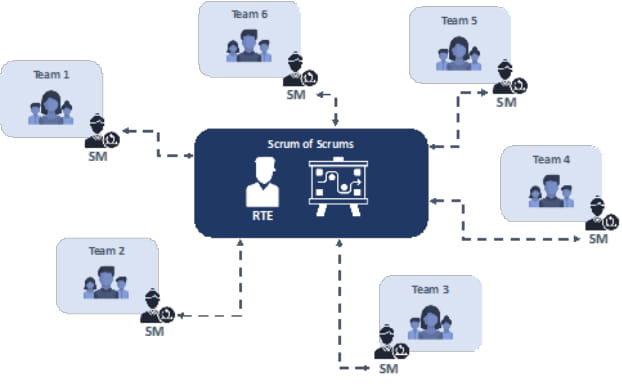 A SAFe Scrum of Scrums (Coach Sync) is further helped by the "Program Board", an artefact created during the Increment Planning (PI Planning). This, coupled with ROAM board (an approach to Risk Management by categorising it as Resolve, Own, Accept and Mitigate), helps give a single version of truth that is transparent and unerring.
In addition to this, SAFe recommends having a PO-Sync event where the Product Owners/Product Management can meet and synchronise in a similar way, ensuring their Product Backlog and the overall strategy is aligned with the enterprise's vision and goals.
ARTs that have established and matured their ways of working can combine the above two ceremonies and have a single ceremony called the ART sync.
Scrum@Scale
Scrum@Scale, on the other hand, has a model that proposes a way to scale development teams with near-infinite scope.
It focuses on having Scrum of Scrums (SoS) for up to 5 teams, and then Scrum-of-Scrum-of-Scrum from those 5 teams to 25, and that keeps continuing through an enterprise. It focuses on Linear Scalability. This scales all the way up to the Executive Action Team (EAT), which is accountable for removing impediments which the network was unable to remove. It also owns the Agile operating systems for the enterprise.

When teams scale using Scrum of Scrums, Scrum@Scale proposes having Scaled Daily Scrum (SDS) with the following structure:
SDS meetings should be 15 minutes or less;
Each meeting should feature one representative from each team; and
During each meeting, members should ask questions like: "What has been done?"; "What will be done?"; "What is going wrong, and why?" and "What is the group going to do about it?"
However, the Scrum@Scale guide doesn't show how an enterprise can be taken onboard to achieve a synchronised, vision-oriented goal.
Scrum@Scale may suit an enterprise that is small to medium-sized and focused highly on IT delivery, but for large enterprises, linear scaling can lead to more problems than it solves. It gives us approaches to cross-team coordination and mitigating dependencies, but it relies on the participants' subjective understanding of what they've heard or observed at their Scaled Daily Scrum meeting.
Scrum@Scale also has the concept of the Product Owner Cycle (MetaScrum - MS) that runs parallel to the Scrum Master Cycle, and is accountable for the backlog, budget, priorities, team, and alignment of value delivery.
The "What" from the Product Owner cycle meets the "How" of the Scrum Master Cycle during Product & Release Feedback. However, sometimes this might arrive too late. Unlike SAFe, there is no specific artefact prescribed to support or facilitate the session, and it relies on participants' commentary.
LeSS
Another framework to scale agility is LeSS (Large Scale Scrum) which, as the name suggests, is less prescriptive. It may suit a small organisation or a very entrepreneurial group within an enterprise. It wants you to find your "true north" and recommends finding synchronisation by introducing the following concept:
Just Talk – Teams (and members of those teams) should be enabled to simply reach out to another team if there is an issue to be discussed, or if there is a risk or dependency to address.
It also talks about practices of Communicating in Code and having Scouts where a team sends a representative to another team to monitor other teams and report back with an update. What it fails to talk about is what happens to this scout when there are 10, 20, or 30 teams.
LeSS is in favour of decentralised, self-organised coordination and integration. As such, it recommends against having a Scrum of Scrums, leaving it all to the teams and team members.
This may work in a company where everyone understands agile values and ways of working and operates in perfect harmony. However, it becomes a little more difficult in an enterprise with distributed teams with varied levels of agile understanding and maturity. Enterprises often seek to synchronise and take everyone with different priorities, interests, and wants to work on a calibrated goal. At that level, LeSS might not be suitable.
When it comes to scaling agility, SAFe as a framework (unlike the other frameworks) helps enterprises achieve collaboration in a structured way, with clear guidelines on ceremonies and artefacts. It helps an enterprise as a whole to be agile, as opposed to focusing on tech delivery.
A truly agile enterprise is 72% more likely to outperform competitors and can have 30% higher profits with 40% higher employee engagement. At NTT DATA, we help enterprises embrace and adopt agility by coaching their executives and teams, defining and driving their transformation roadmap that aims at improving business results and employee satisfaction.
Get in touch with us today to find out more.