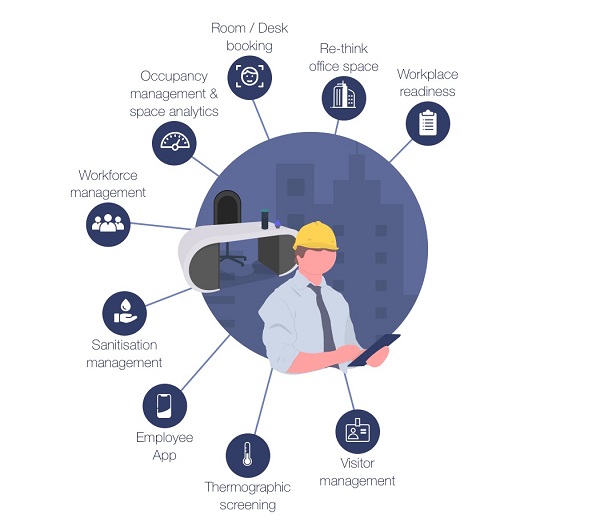 In the coming weeks, as the Government continues to relax the lockdown restrictions following the COVID-19 outbreak, organisations will have to make a number of strategic decisions about the way they run their businesses. In our recent post, NTT DATA discussed how organisations can benefit from focusing their 'return to work' approach on four key pillars: people, ways of working, workplace and technology. In a follow-up post, we provided a deep-dive view on 'people' and in this article, we turn our focus onto the 'workplace'.
Prepare your workplace for a safe return
The workplace as we know it is a thing of the past. Employees returning to their offices are likely to have worries about their safety and an increased risk of infection. Social distancing will continue long after the pandemic is over and your organisation will need to adapt to this new reality. As you plan your approach, we believe there are three key questions to focus on.
1. How will you make the office safe?
Most organisations will opt for a phased return, with some employees working from home or in remote locations and others from the office. For those who do go back, the office experience is going to be entirely different. Many changes will be required to ensure the office is safe and compliant with new guidelines and regulations, making it 'COVID-secure.' Organisations need to decide how to approach issues such as workforce management, office density, visitor management, PPE distribution and sanitisation.
There will be a number of complex changes you will need to make in your office space, but start with quick wins. Firstly, claim greater control over your space by eliminating hot desks and ensuring each employee in the office has a dedicated workstation for the entire day. Since the majority of organisations will start their 'return to work' process with 10-20% of the workforce, there is no risk of desk shortage and this approach will help you to maintain appropriate social distancing measures. It will also remove the need for constant cleaning throughout the day.
While considering your options, don't underestimate the role that technology can play in facilitating these changes. In a survey we recently conducted into 1000 professionals about returning to work, it was revealed that:
85% of recipients expect organisations to rely more on technology to keep connected
72% are worried that they could catch coronavirus at work
With fears high but also a number of solutions available, it seems that technology could hold the key to establishing a safe place for employees to return to.There are many low-touch solutions which can be rolled out quickly and efficiently, giving you the control you need to make your workplace as safe as possible.
Use digital desk booking to reduce seating capacity, ensure social distancing, introduce shift patterns and control your office density at all times. Ensure proper cleaning is undertaken by sending automated sanitisation requests to the facilities team whenever a room or desk is vacated. Consider implementing thermographic screening and low-touch visitor check-in. While these solutions might sound beyond reach, they are actually readily available on the market and can make a huge difference to your business.
2. Who needs to be in the office and why?
Under current circumstances, our mantra is to "continue to work from home, if you can". If some of your employees are physically and mentally fit to come back to the office, you might want to consider opening it up on voluntary basis first. Many employees will be resistant to coming back, but you will also quickly find that some might prefer it. Their decision might be driven by multiple reasons such as inappropriate working conditions at home, ongoing loneliness or feelings of isolation.
As you plan your return, question 'why' your employees need to go back to the office. Many organisations discuss 'how' to go back to the office and 'who' needs to be there, but only few will ask 'why'.
Even before the pandemic, many businesses had already begun to modernise their workplaces, recognising that employees want a greater choice in where, when and how they work. The exponential rise in new workplace technologies created new opportunities to connect, communicate and do business from wherever we are. Millennials and Generation Z entered the workforce, bringing a new set of behaviours and expectations, particularly focused on flexibility, sustainability and innovation.
COVID-19 accelerated the shift to remote working and proved to many that their employees are as productive or even more productive when working from home. As a result, some companies are completely changing the way they operate. Both Twitter and Facebook have offered many of their employees an opportunity to work from home indefinitely.
While we are not suggesting that organisations should entirely move away from their physical locations, it is beneficial to take a hard look at who needs to be back, why and in what capacity. This is an opportunity to do things differently – instead of recreating the old order, think about what really benefits your business and how you can define your 'new normal' going forward, while also maintaining your corporate identify and culture.
3. How will you react if infection spreads?
The Office of National Statistics confirms that individuals working outside the home show higher rates of positive tests for COVID-19 than those who work from home. Despite all the efforts you put into making your office space as safe as possible, there still remains a risk of infection. It is essential that you not only focus on 'return to work', but also have a plan in case your employee gets sick or shows symptoms of COVID-19 after returning to the office.
A number of steps and decisions will need to be made if your employee or someone from their household becomes sick. Your reaction should depend on the size of your office, the measures in place and the potential for virus exposure. Consider enhancing the safety and wellbeing of your employees through contact tracing technology. If infection is detected on site, quickly access and analyse your workspace usage reports to understand potential exposure, contact the employees who could be at risk and minimise the possibility of further infections. Data-driven decisions can help you to create a safer and healthies space for your people.
The office you come back to in the coming months will not resemble the one you left in March. Now is the right time to verify your business needs, consider the role of technology in your workplace and prepare for a safe return.
For specific advice on planning your return to work journey, please don't hesitate to reach out and our team will let you know how we can help.