The Mobile World Congress (MWC) 2022 event is one of the biggest occasions for telecom professionals all over the world. Due to a two-year hiatus enforced by the COVID-19 pandemic, we were all unsure exactly what to expect this year, but we knew that there would be a lot of major announcements from the biggest businesses in the telco space as per usual. In the end, 61,000 people attended from over 200 countries. 5G, Open RAN, the Metaverse, and industry 4.0 were key topics of discussion, but an eager conference crowd wanted to move away from the hype and towards real, concrete applications.
Among them was our team of NTT DATA experts, taking careful note of new trends and technologies. As we know, telecom decision-makers are always looking for insights to stay abreast of their competition. So, we've picked out five that we think you should be aware of.
1.
Open Networks are the future of 5G

In a session led by executives from NTT DOCOMO, Nvidia, and Fujitsu, among others, the discussion turned to the reality of Open RAN. NTT DOCOMO launched its 'shared lab' during the MWC event, taking its 5G Open RAN Ecosystem global – an expansion that we at NTT DATA are supporting. We know how critical these networks will be going forward, providing flexibility and security. Moreover, 5G Open RAN enables networks to be more intelligent and more programmable, and we are seeing fruition in greenfield and brownfield deployments all around the world.

We've all been exposed to the reality of working from home. The capability to have teams working from different geographic locations – frequently across countries – is now a necessity. Fortunately, the open concept of these networks enables remote working in real-time. With it, we can apply a wide range of tech solutions, including extended reality (XR), increased sensorisation of spaces (as part of the Internet of Things), and analysis of huge amounts of data from all over the world.
2.
5G needs partnerships

How often have you seen a prospective technology make the leap from hype to practical implementation? This year, 5G was the target. Attendees sought concrete examples but were left frustrated as there remained a lack of impactful use cases.

Instead, speakers focused on the opportunities that intensified 5G deployment presents to businesses. These businesses will be looking at its potential to cut costs, increase ROI, and cater to a highly diverse, global demand for their services.

Jean-Marie Pierron, the Vice President of Industries Customer Strategy at Salesforce, had a clear perspective on the matter. This journey can no longer be completed by any single company. It's impossible. Instead, we must recognise that the only way to maximise the potential of 5G, to the benefit of everyone, is to have more collaborative partnerships and share our information.

At NTT DATA, we believe in a simplified way to create and leverage an ecosystem, employing NTT Group's trademarked B2B2X terminology. Committing to partnerships and supporting digital transformation adds value to end-users while enriching the service providers in the middle.
3.
Uninterrupted connectivity is no longer a 'nice to have'

The Internet of Things (IoT) is no longer just a technological principle. The world has evolved, and everyday people, with no knowledge or interest in tech, are engaging with IoT devices on a day-to-day basis. McKinsey states that adoption and impact in the home has grown faster than expected and, by 2030, IoT could enable $5.5 trillion to $12.6 trillion in value globally.

IoT is becoming a fact of modern life, almost as much as cellular connection, and with that comes the expectation, if not the necessity, of constant service. According to Philip Skipper, Head of IoT Development at Vodafone Group Business, connectivity has become as critical as electricity for many of Vodafone's customers.

IoT, 5G, and Edge Computing are becoming inseparable, and we can no longer think of them as independent topics.
4.
Sustainability is a crucial part of technology transformation

Businesses now have a responsibility to deliver sustainable solutions as part of their technology offerings. Both their stakeholders and clients are expecting it – to an extent never seen before. Vodafone is one of the companies leading the way in sustainable transformations. Its green adoption of technology involves using IoT and other technologies to help its business customers reduce carbon emissions, with the goal of saving 350 million tonnes of CO2 every day by 2030.

As organisations develop and adopt new technologies, they need to keep asking themselves, 'why are we doing this?' Products and services can't be designed solely for the sake of advancing technology. They should provide value to their businesses and ensure sustainable growth too.

This year, sustainability was a popular topic at MWC, particularly in the context of the metaverse and web 3.0. Much of the discussion centred on how it can deliver on all its promises. Rika Nakazawa, VP at NTT New Ventures & Innovation, cautioned the audience to keep sustainability in mind when talking about the metaverse – tempering our vision with solid planning.
5.
Security has an autonomous future

Unmanned.life, winner of the NTT Open innovation award, launched their new live-autonomous, surveillance-based drone security service at MWC this year. Their demonstration made the case for investing in connected drones, as well as having a proper orchestration of those drones for efficient premises surveillance.

This is the latest in a long line of technology designed to automate complex but time-consuming tasks. These tasks can now be completed without the use of human resources, enhancing human resource management, and saving time. The company received attention from other companies and some high-profile ministers: reconfirming the fact that MWC is an event that does not just shape technology trends, but also informs policymaking too.
Keeping up with the flow of information
Though it is a crucial event in the telecom professional's calendar, Mobile World Congress is only one event, and the spread of information never stops. These lessons will be vital to navigating to the upcoming year. In this fast-moving industry, we can never take our eye off the ball.
As we learned in Barcelona, the best way to keep ahead is to stay aware, stay connected, and stay green.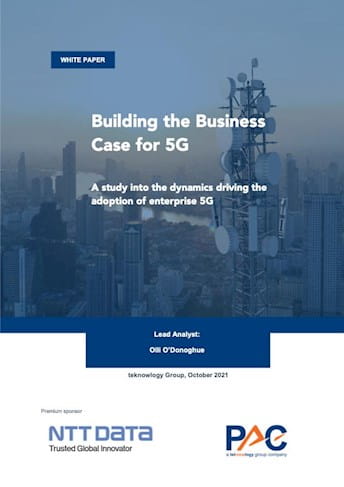 Telco Media
Building the Business Case for 5G
A study into the dynamics driving the
adoption of enterprise 5G
Download the report