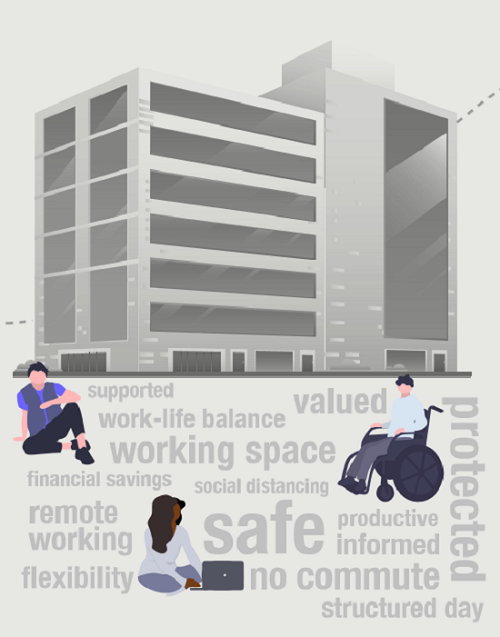 As the UK government cautiously makes steps towards relaxing the COVID-19 lockdown and re-starting the economy, businesses are doing their own planning to prepare for their employees to return to work. Most of us have, in fact, not stopped working at all, but have simply changed the environment and the circumstances in which we are working. For some, the change has brought many positive consequences, such as cutting the commute or spending more time with family, but for others, the lockdown has not been an easy transition and many are missing the familiar surroundings and routine they experienced before the crisis.
Significant steps will need to be taken to establish safe, efficient workspaces for those who return to the office after lockdown. In the absence of a vaccine and with the infection rate as yet still unstable, workplaces will have to change if some employees are to safely come back to their desks and others are to continue working remotely.
If you are intrested in exploring different preparations for the return to work, please register for "The Way to Return to Work" webinar on June 17th, where I will be discussing practical next steps in all priority areas listed below.
Providing clear guidance
At NTT DATA UK, we pride ourselves on assisting our clients to overcome any challenges they face by offering clear options and expert guidance on how to execute them. This situation is no different and, as we know many businesses are grappling with various challenges around operations, logistics and safety, we've developed guidance to help smooth the return to work process.
These recommendations are built around four key pillars:
People
The COVID-19 outbreak happened suddenly and escalated quickly, resulting in huge uncertainty, anxiety and disruption for many employees. A key part of the return to work transition is to understand the needs and challenges faced by employees and provide the appropriate support systems. Businesses will need to adjust their existing HR policies and offer new programmes and services to provide support and guidance, with special consideration for employees who are sick, isolated, vulnerable, anxious or caring for others. Employee safety and wellbeing must be treated as a top priority.


Ways of working
The COVID-19 crisis has ensured that there simply is no longer a 'normal' way of working and terms like 'remote' will likely be made obsolete as flexible practices become more and more prevalent. Clear, consistent processes will be essential to ensure employees are connected, engaged and productive, regardless of their location. As some employees start to return to their offices and others continue to work remotely, transitioning to hybrid models which cater for both choices will be essential.


Workplace
Health and safety has long been a key consideration for businesses, but the current situation calls for an even stricter approach to office utilisation, workforce management and sanitation to ensure that all premises and shared spaces are 'COVID-secure.' Organisations need to know how to minimise the risk of infection across their offices and have the right tools and processes in place to monitor social distancing, control office density and track their people, to keep their offices as safe as possible.


Technology
With staff now likely to be working across a number of different locations with varying levels of set-up and resources, businesses need to implement resilient and agile technology, allowing them to react repeatedly and quickly to changing guidelines. It's vital that dispersed teams have the right tools to communicate, collaborate and work productively, whilst adhering to best practice in data security and system resilience.
How we can help
Our solutions ensure that organisations take steps to implement measures across all of the above pillars in order to fulfil the needs of their business and their employees, whilst complying with relevant standards and regulations.
From securing your workplace to recommendations on hybrid and flexible working practices – we have the expertise and experience needed to help our clients implement the solutions and processes that will suit them and their employees as they transition into this next phase of their working lives.
Where to start
With so much uncertainty and change, it's difficult for many organisations to decide on their next steps. At NTT DATA, we recommend that our clients prioritise safety and in particular:
A safe future
A safe environment
A safe change
A safe future
In order to secure a safe future for everyone, businesses must understand the needs of their employees, be sympathetic to their feelings and anxieties, and provide tailored guidance and support for all. This involves the creation of employee personas and journey maps to identify the different requirements amongst employees and anticipate any challenges which need to be addressed with return to work. Once this insight has been gathered, further steps can be taken to help employees adjust to their new circumstances, allow them to voice their concerns and share their experiences with others.
A safe environment
Understandably, many employees may be anxious, concerned or even frightened about returning to work, especially if they live with or care for someone who is vulnerable in any way. Businesses need to not only provide support to ease these concerns, but also pledge to create the safest environment possible for those returning to the office.
From re-thinking your office space, introducing desk booking systems and tracking flows and occupancy in each workspace, to workforce planning to manage shifts and work patterns, we can help organisations to roll out the necessary measures to reduce the risk of infection and make the transition back into the workplace as stress-free and safe as possible. Our recent partnership with Cloudbooking means we can help our clients to achieve these changes quickly and with ease.
A safe change
No matter what people decide to do or where they choose to work, one thing is certain: nothing will be as it was before and we will all go through a period of adjustment in how we work, connect with each other and measure our performance. We can help businesses to make this adjustment as simple and painless as possible by introducing clear communication, appropriate learning opportunities and the right tools and support to ensure your employees understand your vision and adapt to change. The coming weeks, months and even years will no doubt be challenging, fascinating and transformational as we move into the 'post-COVID' phase, but we will be there with our clients every step of the way.