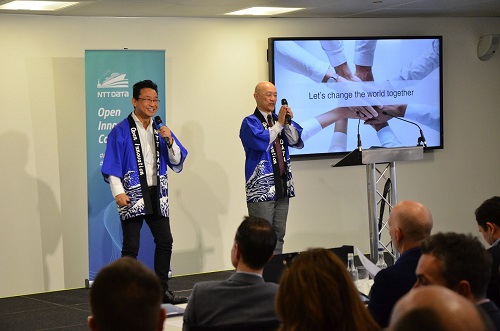 At NTT DATA, we help our clients transform their industries across the globe. And perhaps no single event in our calendar demonstrates this dedication to finding inventive new solutions better than the Open Innovation Contest.
This month represents the launch of the 10th edition of our global contest designed to discover companies that use technological innovation to overcome a range of demanding challenges across our focus industries. From areas as diverse as healthcare and life sciences through to automotive and digital marketing – these innovations have the potential to completely revolutionise our clients' businesses.
Regional contests are being held in 15 cities across 13 nations worldwide, with the winners earning a place in the global grand finale in Tokyo in January 2020. The UK leg of the competition will be held in London and Edinburgh in December.
Winners will receive assistance from a dedicated team of NTT DATA's consultants, technologists and business experts – who will work with the startup to help bring their propositions to life, identify target clients within the global NTT DATA network and bring together complementary solutions from across the NTT Group service portfolio to help accelerate their growth collaboratively.
The ultimate winner of the grand finale will receive funding of up to $100,000 to develop their business solutions with NTT DATA clients.
Innovation through collaboration
Part of our mission is to find, on-board and work closely with innovative start-ups to harness their ideas and accelerate their time to market at scale. As part of this goal the Open Innovation Contest has already helped multiple startups achieve their goals and make their exciting ideas a reality.
Last year's UK winner, Geospock, was chosen for their unique ability to unearth fresh insights that were previously hidden inside large swathes of data.
Working together with NTT DATA – thanks to the Open Innovation Contest – Geospock has the potential to power the intelligent urban ecosystems of the future. Their solution can de-silo data, deliver insights, predict patterns and provide intelligence to smart cities and communities across the world.
The overall global winner of the Open Innovation Contest 9.0, India-based Flytbase, developed the world's first Internet of Drones (IoD) platform – to easily deploy intelligent drones connected with cloud-based business applications.
NTT DATA are collaborating with Flytbase to increase their efficiency in a diverse range of applications – including agriculture, animal detection for farmers, search and rescue, carpark monitoring, warehouse inventory management, environmental monitoring, and compliance.
Sustainable success
The NTT DATA Open Innovation Contest also aims to promote new working methods and practices that align with the UN's sustainable development goals – providing a blueprint for peace and prosperity for the entire planet.
Previous winners of the global contest include Social Coin, a start-up based in Barcelona, Spain. In partnership with NTT DATA, they launched the Regional Issues Discovery Laboratory – a platform to broadly analyse the opinions and emotions citizens have about local issues, discover what regional priorities should be and help develop innovative solutions to any problems that are uncovered.
The platform is being supplied worldwide to help tackle numerous challenges, from regional revitalisation and consumer protection in Japan to financial inclusion monitoring in regions of East Africa.
We strongly believe that social engagement and community mobilisation will be vital in creating a sustainable future for all – and our work with Social Coin reflects our commitment to these values.
So, if you have an innovative idea that can disrupt the traditional ways of operating in your field and leaves a positive impact on the planet submit a proposal – and together we can build a better future.