Organisations look to implement Centres of Excellence (CoE's) to bring together a group of subject matter experts with a shared area of focus that will provide oversight, advice, and talent development. This enables strategic growth within an organisation. At NTT DATA, we have supported multiple clients to accelerate and maximise value from implementing CoE's in areas such as Digital, Agile and Data, and have helped in achieving significant benefits in cost savings, increased productivity, and adoption of new ways of working.
These groups typically provide tips, insights, training, and research with the aim of improving expertise in specific areas and making the most of its resources to enable standardised and efficient operations. They:

Organisations decide to implement CoE's mainly for three reasons; setting standards and best practices to govern day-to-day operations, driving innovation, and enabling productivity improvements and cost efficiencies.
Despite a multitude of configurations and purposes for CoE's, these have won and solidified their place in organisations, demonstrated the value they create and deliver, and are likely to continue to be an active component in organisations across sectors.
So, what are the challenges?
Many companies continue to face significant challenges when setting up CoE's in their organisations. These challenges will generally differ based on the type of CoE, but can usually be categorised into the following areas:
1. Lack of Strategy: no defined purpose or plans on how the CoE is going to be used making it difficult for staff to focus on any defined goals
2. Purpose: people don't know how to make the CoE work for them, often driven by low executive understanding and buy-in
3. Relevance: the problem the CoE is targeting to solve is not important to a substantial part of the organisation
4. Coverage: the CoE is targeted at a localised problem, when CoE's are most effective when used to fix enterprise-wide problems
5. Management: lack of understanding of customer needs, insufficient resources, and lack of alignment with the organisation's objectives
6. Funding: required resources - people, money and political capital to generate and guide change are insufficient, which will also impact the calibre and quantity of the people that make up the CoE
7. ROI: lack of demonstrable return on investment, i.e not able to identify and measure the CoE impact in the organisation
8. Knowledge: lack of knowledge or expertise in specific domains, often driven by the lack of enough experts in the CoE area that can train/ up-skill others
9. Dynamics: intransigent goals and processes in the face of a dynamic business environment, leading to timeboxed taskforce approaches likely to become irrelevant when their goal is achieved
10. Bureaucracy: the CoE is viewed as an administrative necessity rather than a business imperative, and gets buried deep in the organisation
When organisations develop CoE's in a calm, structured, and reasoned manner they tend to get the nuances right. They are able to discover and correct problems as they occur, enabling them to continue to develop and consistently improve. However, when CoE's are developed hastily, perhaps as a last effort to save initiatives or generate innovations to save the organisation, this is when problems occur and the above challenges start to creep in, creating a minefield for its successful implementation.
How can organisations overcome these challenges?
In our experience, a mature high-performing CoE is engrained within the organisation and forms part of its strategic core, providing leadership, best practices, research, support, or training for a focus area. For example one of our clients has seen a sustained productivity increase of 79% after our CoE implementation, with a 24% annual cost saving and a 50% reduction on annual defects
Together we've enabled them to successfully go through the following various stages of CoE implementation: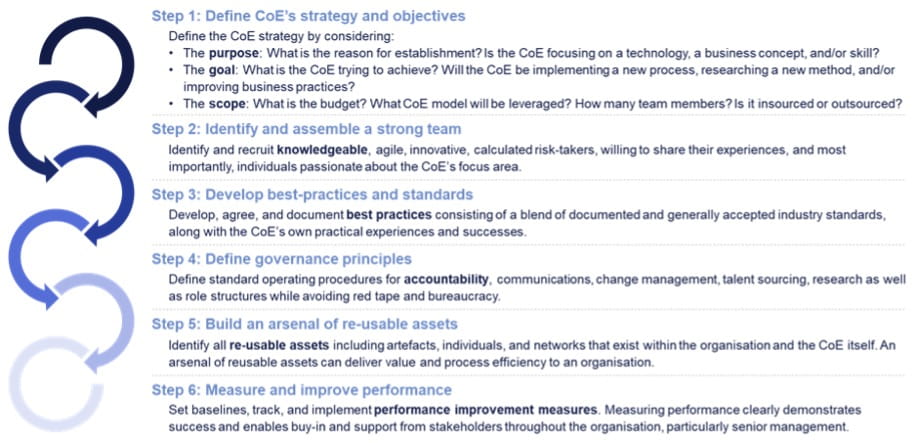 This implementation aims at ensuring the following key components are defined and implemented when setting up a new CoE:
Defined vision: documented CoE vision with clearly defined strategic objectives
Competence and talent: qualified and tenured team delivering expertise in a specific area
Talent development: opportunities developing and improving talent and performance with training, coaching, and mentoring
Re-useable assets: library of artefacts e.g., SharePoint with templates, tools, and articles
Best-practices: documented generally accepted industry and organisational standards
Governance: well-defined and holistic standard operating procedures
Performance measures: set and communicated baselines and performance targets
Management reporting: channels reporting and attaining feedback from the Management Board
Infrastructure: technology to prototype, develop, test, and modify subject matters
With the following essential characteristics to achieve a mature high-performing CoE:
Possesses sufficient credibility, authority, and skills to influence and drive change
Leverages partnerships, networks, and expertise to enable talent and competency development
Utilises insights on customer needs and has effective feedback procedures to assess impact of its work
Aligns objectives to the organisation's strategy and vision, and has a tried-and-tested success criteria
Progressively monitors the use of corporate guidance, best-practices, and standards
Challenges and supports underperforming projects, departments, and/or initiatives
Has a well-defined governance and operating model
Coordinates and improves risk management
Measuring success
Irrespective of its type, CoE's must always drive tangible business value through measurable success metrics, such as:
Outward facing measures:
1. Volume of new ideas generated: act as evangelists to deliver value, be in the centre of innovation to generate new and different points of view, and advertise them
2. Volume of units created/ delivered: builds on previous metric and is a good measure of execution-on-demand, especially if compared with the number of new ideas actioned - together these two metrics allow to build the CoE funnel of ideas in and ideas out
3. Delivery velocity: understanding the velocity at which the CoE delivers, and how it can be improved, ensure CoE continues to be perceived as a valuable and timely asset
4. Customer satisfaction: the value organisation's stakeholders perceive being delivered by the CoE,its level of expertise,ease to engage, its material impact to the organisation and its customers are all good points to be assessed
Inward facing measures:
5. Portfolio ROI: track this across the CoE portfolio to evaluate its performance against prioritised initiatives, to evaluate if the right things are being valued, or any adjustment is required
6. Budget estimates v. actuals: monitor spend and understand what is driving any variation between forecast and actuals and what has triggered that variation
7. Creation and use of reusable assets: how big has the CoE reusable assets library has been developed to enable its members to deliver consistently on time, quality and cost, and avoid having to craft a solution from scratch each time
8. Adherence to standards: establish and track adherence to CoE standard ways of delivering by internal teams as well as any third-party partners
Successful CoE implementation
The majority of CoE's are created with the best of the intentions, and need to be set up to focus solely on pushing beyond the status quo and constantly deliver value to the business. In addition, the success of any CoE is highly dependent on its ability to clearly establish its role in the organisation and the value it provides to customers.
The bottom line is that a good CoE provides the leadership needed to establish and govern best practices to deliver exceptional value to organisations and their customers. Irrespective of the purpose and type of set up model, well-run CoE's guide complex projects from inception to successful completion through the contribution of its subject matter experts and facilitates continuous improvement over time within the organisation.
At NTT DATA, we're experts in aiding organisations in implementing effective and successful CoE's. To learn more about how we can help you, get in touch with me today: