Being innovative is a value that most companies aspire to. But putting innovation into practice can be difficult. Often, organisations lack people with the skills to bring about innovation, or they lack the time and resources to enable existing employees to innovate. Even companies that are already great innovators can always be doing more. So, how can we spark innovation within organisations and ensure they are making the most of their talent and resources?
To answer this question we came up with an idea. What if in just five days, an organisation's ideas could be rapidly pushed beyond a concept and into a tangible solution – ready for implementation to solve real problems across the business? And so our Innovation Week was born.
What is an Innovation Week?
NTT DATA UK's Innovation Week shows organisations how quickly innovation can produce tangible results. On the first day, NTT DATA works with the organisation's team to identify a real problem that needs solving. The next three days consist of a low code hackathon across departments, with teams generating ideas, deciding how to implement them, and identifying what needs prioritising. The teams build their ideas, ready to present on the final day. This rapidly produced solution can then be properly developed following the Innovation Week, if desired.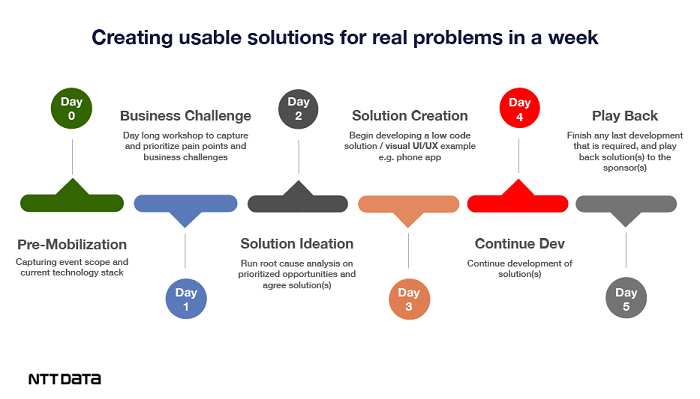 Why does a business need to innovate?
The past two years of lockdown and homeworking have shown businesses how important and potentially simple it can be to implement new, innovative ways of working. This has been highlighted by the adoption of "virtual tools" such as MIRO, TEAMS and Online Planning Poker.
The fear of trying something new is slowly disappearing, and the benefits of reactive innovation are clear for all to see. Businesses must now be proactive in their innovation strategy in order to:
Grow: identifying, prioritising and implementing the right innovations will allow you to add value and increase revenue.
Adopt technology: New or improved technologies are being developed and evolving faster than ever before. The use of artificial intelligence and machine learning, or the latest in data analytics and modelling will allow businesses to optimise process and performance.
Be ahead of the competition: As market disruptors such as Tesla, Netflix and Starling have shown, if you do not have an innovative mind-set, companies who do will bring new ideas to market and will leave others scrambling to keep up.
Why is it difficult to innovate effectively?
Most companies know why they need to innovate. They know they need to be the next Netflix, Tesla, or Amazon and not the next Blockbuster, Nokia, or Polaroid. To facilitate innovation, many companies already have established innovation methodologies, processes, and structures. Nevertheless, innovating remains difficult.
And sometimes innovation ends in failure. Take the example of drone analytics provider, Airware, which used commercial drone services to improve companies' operational efficiency. Money was ploughed into re-engineering the drones rather than software development, and the products were undercut by cheaper alternatives being produced in China. The company eventually ceased operations in September 2018.
It is possible for innovation to have this outcome, but failing isn't always bad. With the appropriate structures in place, organisations can innovate in the right way, and learn from mistakes along the way. Examining the following factors and how they impact on innovation is crucial:
Culture: culture change does not happen overnight. To successfully change the culture of a business to you need patience. Businesses need to remove the fear of failure, as failure is an inevitable part of innovation: "fail fast, fail often." There is not always one correct answer to a problem or a silver bullet solution, and businesses need to foster a culture that promotes the generation of creative ideas, without the overhanging fear that there are repercussions of failure. Having the correct organisational structures and processes can help harbour the right culture.
Structure and processes: to make innovation successful, businesses must separate the BAU from the "innovation hub." The creation of an innovation hub allows for the centralisation of all innovative ideas across the business. This not only ensures that ideas are prioritised more effectively based on the current business priorities and technology, but it ensures that the businesses are engaging with their customers and employees.
Capability: businesses may be incredibly keen on innovation, and may even have a backlog of ideas, but they lack the key skills, ability, and resources to deliver these ideas. This, in turn, demotivates a company and the appetite for innovation plateaus as the value from ideas is not being recognised.
While these factors present a challenge to businesses seeking to innovate, they are surmountable. NTT DATA's Innovation Week is one way to overcome some of these barriers, helping organisations to move beyond innovation stagnation. NTT DATA's cross-sector experience brings fresh perspective to drive new ideas for businesses and build on existing ones.
Innovating to stay ahead
In the current economic environment, innovation is essential not only to stay ahead of competitors, but to survive as a business. Every business can do more with its data and resources, and innovation is a way to maximise the potential of these assets and to create business growth and success.
Innovation need not be a long, drawn-out process. Ideas can begin generating tangible benefits within a short space of time when the necessary resources and time are dedicated towards the process.
Please reach out to Diogo de Azevedo for information on how NTT DATA can help your business realise its full innovation potential.
M: +44 (0) 7795 811698