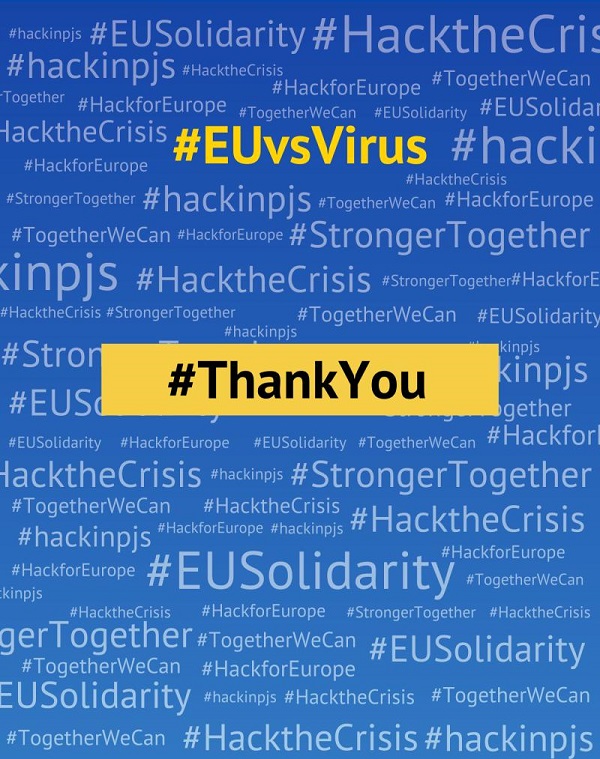 In a time where concepts such as 'isolation' and 'remote working' are part of our everyday lives, working together could seem like a distant memory. However, at the EuvsVirus remote hackathon whose final ceremony was last weekend, the resounding message was that 'together, we can go further.' The event was held to unite individuals and teams from across Europe in response to the Covid-19 pandemic.
Organised by the European Commission and more than 600 global partners including Google, Amazon, Telefonica, and Vodafone, the event's purpose was 'to open up the virtual borders to fight the Covid-19 crisis'. I joined more than 20,000 others from over 40 countries, working alongside a group of over 1,500 experienced and specialist mentors from across Europe – including NTT DATA and Everis colleagues from the UK, Germany and Romania.
It was a privilege to support motivated and ambitious people sharing their expertise and time to play their part in fighting the virus, redesigning the way we will live during and after the Covid-19 pandemic.
The event was organised around domains, covering health, business continuity, social cohesion, remote working and digital finance. Mentors were assigned to assist participants as they took on specific challenges and tasks within these domains. Effective online tools and thoughtful community management meant we could all collaborate and communicate remotely, even with the large scale numbers involved.
The triplewin opportunity
I've always made time to take part in mentorship programs and this hackathon didn't disappoint - I see being a mentor as a 'triplewin' opportunity:
to offer guidance
to learn
to support a compelling mission
It was inspiring to see a wide range of solutions and ideas emerge during the hackathon, such as 3D printed PPE, deployable furniture for field hospitals and t platforms to tackle cyber threats and fake news. We also discussed domestic violence support apps, UVC disinfection methods, education apps for families, high tech masks and hygienic door openers.
Clear results
I enjoyed mentoring teams from Germany, France, and Russia, building solutions from telemedicine and virus detection triage tools, to VR psychotherapy for mental health. I supported teams with advice on partnership strategies and I made several new connections with participants from all over the world.
A record breaking 2,000 projects were submitted and evaluated on potential impact, technical complexity, prototype completion, and business case. It was fantastic to see one of the NTT DATA Open Innovation Contest winners from Edinburgh 2019, Unmanned Life, win a prize for their Autonomous Pandemic Management Platform. As winners, they are now invited to join the European Innovation Council COVID Platform and will also be given access to end users and funding opportunities across the EU.
Diverse thinking and collaboration
The hackathon is a good example of why I chose to join the R&D team at NTT DATA. My role draws on my passion for nurturing the global ecosystem of promising technology companies, as well as my experience in building programmes to help these businesses grow and succeed. I'm part of a diverse, multi-disciplined team that embodies the best of agility and collaboration in business.
I spent the last six years designing programs at Google, working closely with business founders and understanding some of the challenges that growing B2B companies face. I relish the opportunity here at NTT DATA to deliver a unique program with a triplewin, that can bring value to the organisation, to new innovative partners and to our shared customers.
The hackathon was a valuable lesson in the power of working together to achieve more. I for one will continue to mentor and support promising new companies through initiatives such as this as I believe that diverse thinking and collaboration always lead to the most impactful innovations.