The COVID-19 crisis will inevitably have significant social and economic impacts – but we are still very much in the "early phases" of this pandemic. For many business and individuals there remains a high level of uncertainty about the duration of the measures that have been implemented to contain the pandemic.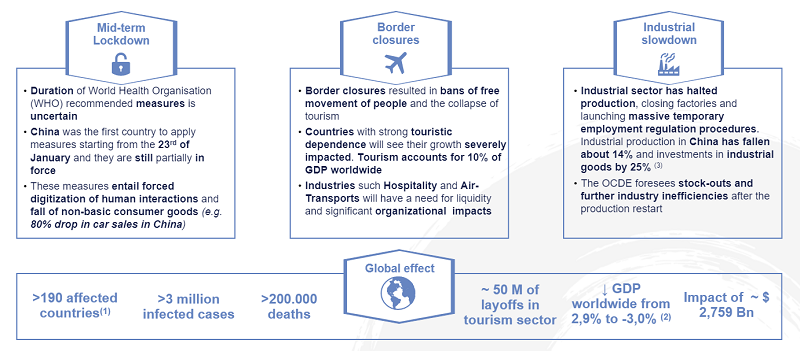 (1) World Health Organization situation report #77 (2) IMF (3) Bloomberg
The one certainty we do have is that this crisis is generating massive impacts on the economy –no country is escaping the effects. GDP forecasts for 2020 are being revised down – in some cases double digit decreases are expected. For the UK a 7.5% contraction in GDP is now forecast for 2020 – for the Eurozone the forecast is a 9% reduction. Even South Korea, which has been widely praised for its handling of the pandemic, has announced that the first quarter of this year represented the worst economic slowdown since the banking crisis.
There are entire sectors of economies that are in complete shutdown – such as tourism, which accounts for 10% of global GDP ¬– and many more that are experiencing major slowdowns. And of course, we are also seeing massive spikes in unemployment as employees are furloughed or made redundant – just in the UK 11 million people have had to stop working.
(1) Lockdown measures depending on the different countries
Given this environment, financial institutions are facing a myriad of challenges. However, the financial services sector has a vital role to play in weathering this storm and also in the recovery phase once the pandemic is brought under more control and lockdowns are slowly relaxed.
The question is, how can financial institutions manage how the crisis is each area of their business and turn these challenges into a sustainable plan for the future?
"Let's not pretend that things will change if we keep doing the same things. A crisis can be a real blessing to any person, to any nation. For all crises bring progress." -Albert Einstein
To help financial services organisations, NTT DATA has compiled a new analysis of the crisis which identifies each of the challenges facing the sector and recommends strategies for creating action plan to minimise the impact of the pandemic.
Here I want to outline our recommendations for the financial services sector based on that analysis – looking at the key challenges in turn, and then what companies can do about them.
The challenge for financial institutions will be to turn the impacts into growth and digital transformation
Business challenges and risk
The business implications of the current crisis are hugely varied. Of course, there has been an unsurprising increase in immediate credit needs. But there are also more medium-term issues – that come from a slowdown in attracting new customers and a decrease in income generation, putting elements like dividends at risk.
But perhaps the biggest financial challenge is simply the huge market instability caused by the uncertainty which risks poor performance of products and the loss of value of clients' portfolios.
There will be opportunities to address these risks – either by diversifying and investing in alternative assets, or by offering value add services to clients with liquidity risks. But to capitalise on these opportunities there are a range of tools and processes institutions need to have in place.
This includes defining a mixed-target income model that includes financial and non- financial services and that diversifies risk, but within that there are also sensible steps that can be put in place – in the short term that might be identifying risk groups early to enable proactive actions (e.g. restructuring, guarantees on factoring, grace periods). In the more medium-term that might include implementing digital tools that allow clients to analyse their liquidity capacity and take proactive commercial actions or creating real time analysis tools for bank managers working on investment and automatic rebalancing.
Internal and external communications
Perhaps the most dramatic and instant impacts on organisations has been on how they manage employees and communicate with customers. Like many businesses, financial organisations have had to rapidly create new methodologies for team management and communication internally and have also had to contend with the need for temporary headcount reductions.
Externally, there has been an immediate decrease in the use of face-to- face channels – and a significant increase in the use of mobile and web platforms. The crisis has accelerated and intensified customer demand for useful and frictionless digital experiences.
Responding to these challenges internally requires a rapid roll out of digital team management tools and clear communication to employees around remote working best practices and performance rules.
In terms of customers, companies should be prioritising digital marketing campaigns and social networks initiatives that help customers in everyday life. This can be done in tandem with customer surveys to identify areas for improvement – giving clear prioritisation to ongoing digital transformation programmes and maximising the value of digital channels.
Control and audit
Finally, the crisis is also creating a new set of challenges when it comes to compliance. Of course business continuity plans have been activated, but uncertainty about the duration of the contingency situation makes it difficult to plan too far ahead. The situation also means that strengthening institutions' compliance with regulators has become far more important.
The solution to these challenges needs to focus on honing business processes. In the short-term organisations need to have crisis committees that centralise and streamline critical decision-making.
Businesses should also be putting focus on ensuring correct documentation and communication of regulatory compliance with KPIs – and the actions taken in case of KPIs with low levels of compliance. Looking further ahead, now is the time to be looking at those BAU controls that have had to be performed digitally and digitise them for the future, perhaps even digitising the entire annual audit process.
One step at a time
The challenge facing financial institutions is unprecedented – indeed, this blog only provides a snapshot of the true scale of the issues to be dealt with. These issues aren't going to be magically solved overnight.
Instead, organisations need to be looking at intelligent phased programmes. The vast majority will already be well into phase one – stabilisation. This is all about temporary readjustments and identifying the priorities and steps that will need to be taken next to manage the immediate fallout from the crisis and minimise risk.
But as we move forward financial institutions need to be shifting their focus to look at first strengthening their businesses, and then looking at how they will differentiate themselves as we begin to return to 'normal'.
As much as the focus is understandably on survival right now, businesses can't completely retreat. Instead we need to be looking for the technology, tools and strategies that will enable the sector to come out of this crisis stronger, more agile and more resilient. Going back to the 'way we were' isn't acceptable or a desirable outcome. We have to use the challenges and opportunities that face us now to make the changes our industry needs.
It is a major task – but one that we need to tackle collaboratively. NTT DATA is here to help you through this process every step of the way.
Authors:
Luis Olmedo, Americas Head of Strategic Value for Banking, everis
Carlos Company, Americas Head of Business Consulting & Digital Strategy
Jorge Lesmes, Global Head of Blockchain practice for Banking, everis